Eine Erklärung in Kurzform:
Freedom of the city – eine uralte Ehre und das Recht mit Waffen durch die Stadt zu marschieren!
Die Ehre "Freedom of the City" wird nur an Truppen gewährt, die das Vertrauen der lokalen

Bevölkerung, durch einige tapfere Handlung oder einfach,
indem Sie eine vertraute Anwesenheit erworben hatte!
Die Tatsache der vertrauten Anwesenheit,
das trifft wohl am ehesten das in Hameln stationierte Britische Miltär!
Die Ehre beruht auf Beiderseitigkeit!
Die Truppe die die Ehre erhält und die Stadt, die die Ehre gewährt!
Schaut vielleicht auch einfach mal bei dem englischen Wikipedia nach:
http://en.wikipedia.org/wiki/Freedom_of_the_City
Die Ehre wurde den in Hameln stationierten Truppen mehrfach gewährt.
Von einige Paraden habe ich sogar Fotos bzw. wurden mir Fotos zur Verfügung gestellt: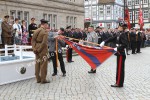 © Arnd Wöbbeking Am Samstag vormittag nahm das Ende seinen Lauf. Die Abschiedsparade startete gegen 10.00 Uhr am Münsterkirchhof. Das letzte Mal schallte es durch die Straßen von Hameln: "28 ENGINEER REGIMENT – QUCIK MARCH" Angeführt wurde die Parade von "The Band of the Corps of Royal Engineers". Dieses Mal konnte ich nicht die ganze …