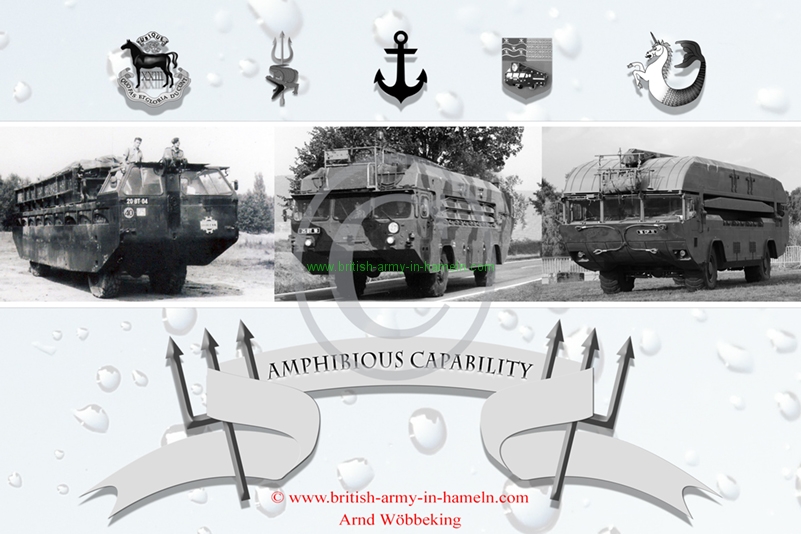 Nach dem II.Weltkireg hatte Lieutenant Gillios des 211. französichen schweren Brückenbau Battalion die Idee ein amphibisches Brückenfahrzeug zu entwickeln. Bis es dazu kam dauerte es aber noch bis in das Jahr 1954. Die Beziehungen zwischen Deutschland und Frankreich wurden wieder etwas besser und Lt.Col. Gillios fand Gehör bei Dr.Gehlen von den Eisenwerken Kaiserslautern (EWK). Die Entwicklung begann und heraus kam dabei, die nach dem Ideengeber benannten Fahrzeuge, die Gillios-Fähren! Ungeheuer schwere und massige Fahrzeuge die mit Hilfe von aufblasbaren Gummibälgen über Wasser gehalten wurden. Zahlreiche Testes wurden mit diesen Fahrzeugen durchgeführt und so kam es schließlich zur Einführung des Systems bei den Britischen Streitkräften.
++++
After the Second World War, Lieutenant Gillios of the 211th French bridge construction Battalion had the idea of developing an amphibious bridge vehicle. But Gillios had to wait until 1954. The relations between Germany and France were again better and Lt.Col. Gillios was heard by Dr. Gehlen of Eisenwerken Kaiserslautern (EWK). The development began and came out. The vehicle were named after the idea-maker, the Gillios ferries! Massive vehicles, which were held over water by of inflatable rubber bellows. Numerous tests were carried out with these vehicles and finally the system was introduced by the British Armed Forces.
+++++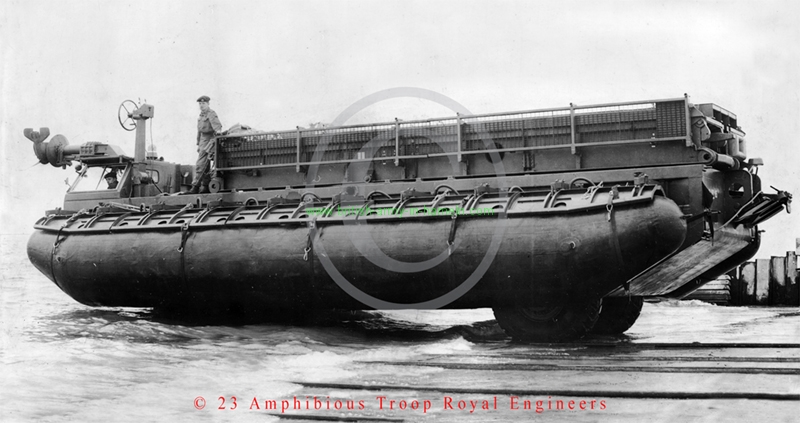 Gillios während der Testphase in England / Gillios during test in Great Britain
© 23 Amphibious Troop Royal Engineers
+++++
In den 60er Jahren ging die Entwicklung eines hochmobilen Brückensystems weiter und es wurde bei der Bundeswehr entschieden die M2 "Alligator" Fähren der EWK einszusetzen. Als das bei der britischen Militärführung bekannt wurde, entlieh man sich einige der deutschen M2 Fähren und entschloß sich aufgrund der geplanten Cooperation mit der Bundeswehr für dieses System. Weil im Lauf der Jahre die Kampfpanzer der britischen Armee immer schwerer wurden, ist das M2 System immer wieder modernsiert worden. Der letzte Stand war damals die Bezeichnung M2D. 
+++++
In the 1960s the development of a high mobile bridge system continued, and the Bundeswehr decided to use the M2 "alligator" ferries of the EWK. When this became known in the British military leadership, some of the German M2 ferries were borought by them, and decided the British decided also to use this System. One Reasen was also the Cooperation between the British and German Army. Over the years the M2 System was modernized again and again. The last version was the M2D inservice with the Amphibious Engineers of Hameln.
+++++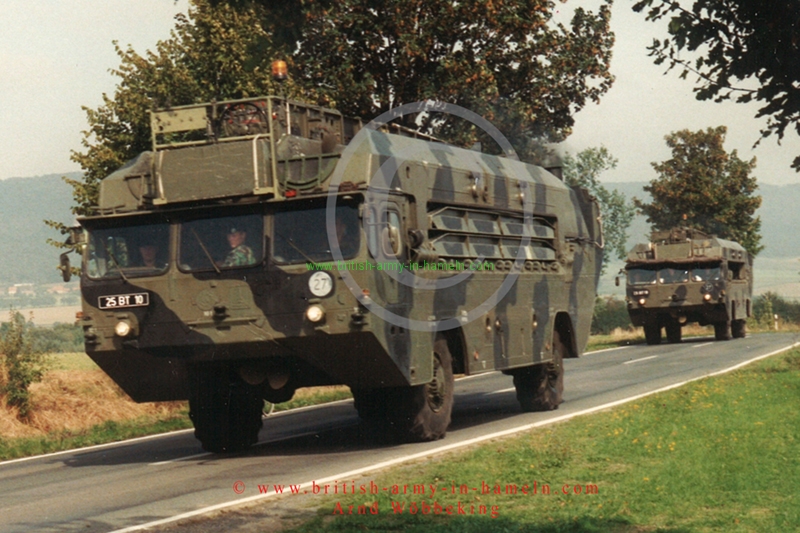 M2D mit dem Kennzeichen 25BT10 auf dem Weg nach Großenwieden / M2D VRN 25BT10 on the move to Großenwieden
© Arnd Wöbbeking
+++++
Währrend der gesamten Dienstzeit der Fahrzeuge entwicklete EWK ständig weiter und 1996 war es dann soweit. Vom Prinzip das gleiche System aber wesentlich mobiler, schneller und nur noch drei Mann Besatzung wurden und werden auch heute noch für die M3-Fahrzeuge benötigt.
+++++
During the entire service life of the M2 vehicles, EWK continued to develop a better system. So in 1996 the new designed M3 Rigs came into service. Principle the same system but substantially mobile, faster and only a three men crew. The M3's are still in service in both armies! 
+++++
M3 mit dem Kennzeichen 16CP12 im Gundolph Park Hameln / M3 VRN 16CP12 at Gundolph Park Hameln
© Arnd Wöbbeking
+++++
KLICK ON THE BUTTON TO FIND OUT MORE ABOUT THE AMPHIBIOUS VEHICLES:
GILLIOUS +++ M2 - RIGS +++ M3 - RIGS
+++++
Thanks to 23 Amphibious Troop RE, 28 Engineer Regiment, Joe Whiston to make this report possible!