(c) Arnd Wöbbeking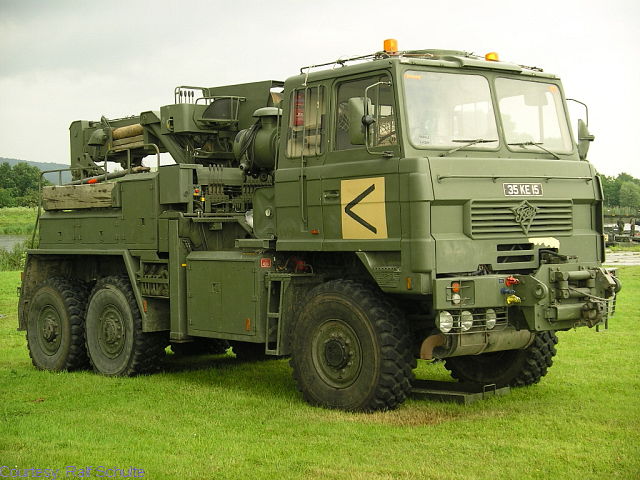 Danke an Andreas Richter für das obige Bild von einem Tag der offenen Tür!
+++
1986 wurde der Foden 6×6 Recovery Truck in die Britische Armee eingeführt!
Insgesamt wurden 333 Einheiten bestellt,
die bis heute (Stand 2012) Ihren Dienst versehen! 
Der Kran-Abschleppwagen ähnelt in vielen Dingen
der Zugmaschine für die FH70-Feldhaubitze,
verwendet jedoch einen wesentlich stärkeren Motor!
Der Hydraulik Kran hat eine Maximale Tragkraft von 11t
und ist daher ideal zur Instandsetzung
aller in der Britischen Armee eingesetzten logistischen Fahrzeuge!
Im 28 ENGR REGT WkSp (REME) wurden
einige dieser bulligen Fahrzeuge eingesetzt!
+++
The Foden 6×6 recovery vehicle embodies Eka model AK6500 EA12 and

supercedes the Swedish Eka type D2030B
with fixed boom which was selected
for evaluation by the British Army.

The Foden 6×6 Recovery entered service in 1986
with an initial order for 333 units.
It retains the performance and many of the
external features of the FH-70 Gun Tractor,
but uses the more powerful
Perkins (Rolls-Royce) Eagle engine.
The hydraulically-operated folding boom crane
has a maximum lift capacity of 11,000kg
and is designed to recover all British Army
in-service logistic support vehicles.
Many of them were
 held by28 Amphibious Engineer Regiment Workshops (REME).
The British Army currently has 333 (Year 2012)!
+++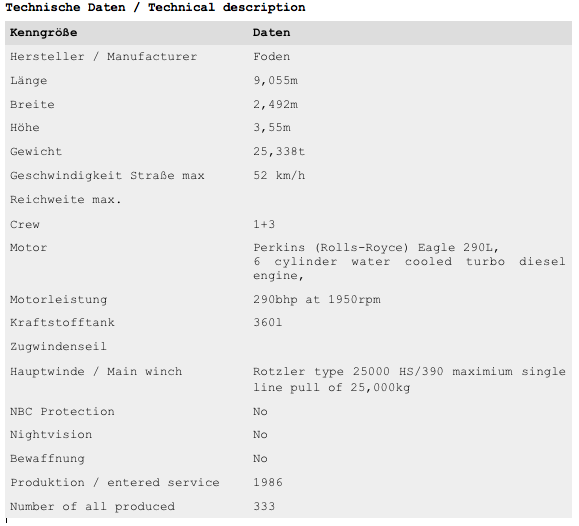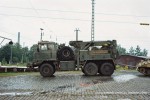 (c) Fotos Marc / Text Arnd The images shown here, I got from Marc. They shows the FODEN 6×6 recovery with the VRN 33KE77 in 2004 while working at the freight station in Hameln! The unit came here straight from a posting back! Therefore, the Spartan even the sand-colored camouflage! Many thanks to Marc for these pictures! +++ Die hier gezeigten Bilder …