© Dewezet & Arnd Wöbbeking
Among other things, the tasks of the Royal Engineers from Hameln consisted of blowing up explosives. In war time, they had to destroy the Weser bridges to prevent a fast move of the Warsaw Pact troops. In many exercises this was part of the scenarios. But also on Squadron level this scenario was practiced and I do not know how many times I went home from school and saw British soldiers on the two bridges, the railway bridge and the Valentini Bridge and watched how they did their job. I have always admired the boys, walk on the narrow bridges with no net and double bottom, freehand without safety belts.
The 26th of March 1982, however, was a sad day for the troops stationed in Hameln. On my way home, I also noticed that something was not right, something must have happened, because why is there an ambulance and British military together at the railway bridge?
The next day you could read in the local newspaper DEWEZET what happenend. The 21-year-old Sapper "Rosie" Rose from 8 Troop – 42 Field Squadron RE stumbled on the bridge and touched the overhead contact line. Unfortunately the contact with the 15000 volt strong overhead line did not survive the young soldier . The quickly summoned emergency doctor could only determine the death. After this incident, the exercise was stopped immediately.
Rest in Peace sapper and we will remember … ..
+++
Die Aufgaben der Royal Engineers aus Hameln bestnden u.a. auch aus dem Druchführen von Sprengungen. Im Ernstfall hatten sie zur Aufgabe die Weserbrücken zu zerstören um einen Vormasch der Warschauer Pakt Truppen an einem schnelleren vorrücken zu hindern. In vielen Manövern gehörte das mit zu den Übungs-szenarien. Aber auch auf Squadronebene wurde dieses Szenarien geübt und ich weiss nicht wie oft ich von der Schule nach Haus gegangen bin und britische Soldaten auf den beiden Brücken, der Eisenbahn-und der Valentini-Brücke gesehen und beobachtet habe wie sie Ihre Arbeit machten. Ich habe die Jungs immer bewundert, ohne Netz und doppelten Boden, freihändig ohne Sicherheitsgurte auf den schmalen Brücken herumspazieren. Da gehört schon was zu. 
Der 26 März 1982 jedoch war ein trauriger Tag für die in Hameln statinonierten Truppen. Auf meinem Weg nach Haus, bemerkte ich auch das etwas nicht stimmte, da muss etwas passiert sein, denn warum steht an der Eisenbahnbrücke ein Rettungswagen und britisches Militär? 
Am nächtsten Tag konnte man die Geschehnisse in der Deister- und Weserzeitung lesen. Der 21-jähriger Sapper "Rosy" Rose vom 8.Troop der 42 Field Squadron RE ist auf der Brücke ins straucheln gekommen und hat dabei die Oberleitung berührt. Die Berührung mit der 15000 Volt starken Oberleitung überlebte der junge Soldat leider nicht.  Der schnell herbeigerufene Notarzt konnte nur noch den Tod feststellen. Nach diesem Vorfall wurde die Übung sofort abgebrochen.
Rest in Peace Sapper and we will remember….. 
+++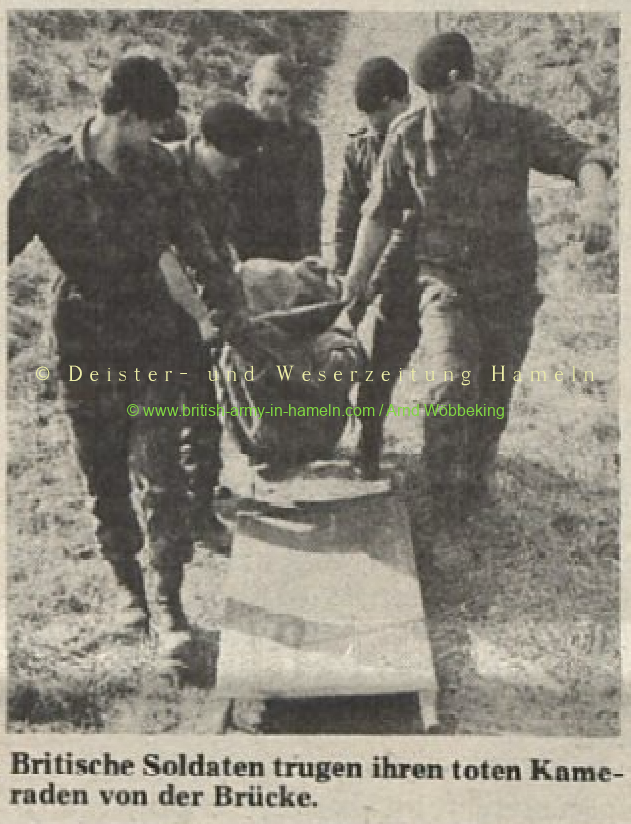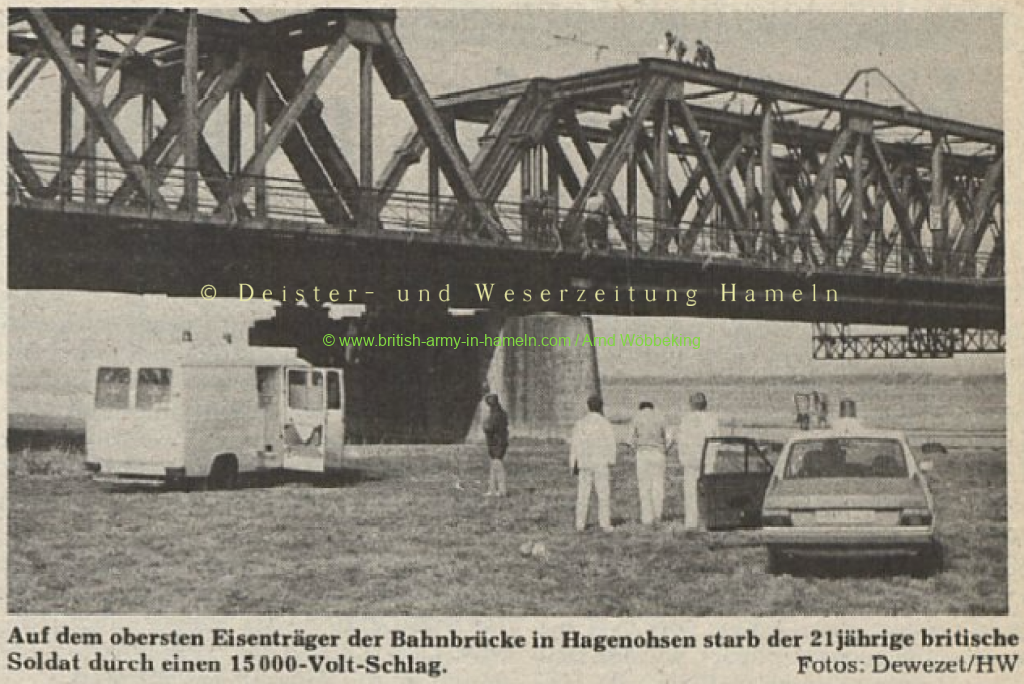 Die Zeitungsberichte mit freundlicher Genehmigung der Deister-und Weserzeitung
Das Titelbild mit freundlicher Genehmigung von Christian Scharf!
Der Ort heute: