© Arnd Wöbbeking & Andrew Mills
Andrew Mills, found a few weeks ago my webpage about British Forces in Hameln. Specially he found the report about the Lancaster Bomber, the 73 Amphibious Engineer Squadron digged out in 1974. He was very impressed and the newspaper cuts brought back some memries, because he was an active part of the Squadron at that time. He took some photos during the "Lancaster dig" and he scanned and sent them for the website. 
Andrew arrived in Hameln in July 1972 and served with 8Tp 73 Amphibious Engineer Squadron until July 1975. Then he was posted to 23 Amphibious Engineer Squadron and stayed there until September 1976. After his time with 23 he was posted back to the UK.
He wrote: 
Looking back over the photos I find that my memory is letting me down for I can only put names to two or three of my former colleagues.  The work we did that day was, for me, very interesting and worthwhile – unlike much of the everyday army mediocrity I endured during the five years and eighty three days I spent in the armed forces.
Although I was not much of a soldier and did not see the point of most of what we did, I did thoroughly enjoy the lovely town of Hameln and had some very good times in the pubs there.  I  was a frequent visitor to George's bar, the Bath tub, the Green Lantern, the "Turk's Head" at the top of Scharnhorst Strasse, and several others whose names now escape me.
I trained as a bricklayer in the army and after leaving, in 1977, I worked on several building sites in Germany mostly around the Warstein/Lippstadt area.
As Andy read the List of all RSM's are on my page, he remembered RSM Leswell the 2nd one of 28 Amphibious Engineer Regiment. Andy told me:
Shortly after arriving at 28 in the summer of 1972, I was put to work as a barman in the sergeants mess and remember the new RSM, Leswell, Telling the mess sergeant to remove the price list from the bar because "I expect the barmen to be able to make a few quid and they can't if the mess members know the price of everything". Top bloke!  
I also remembered Joe Herman and recall a funny incident down at the rig park.  Joe lived in the married quarters next to the park.  I was on guard duty one Sunday not long after I had joined the Regiment with John Riley, a very funny guy.  We were walking around the fence, armed with pick axe handles, between the park and the married quarters when a man came towards us with his hand in his pocket and said "Riley, I've got a gun". I had no idea who this was but Riley did.  John threw his pick axe handle over the fence saying "fuck that I will open the gates then" and walked briskly towards the gate telling me who "this fucking idiot was".  I thought we were in trouble over this but it turned out that Joe had a sense of humour and we had a laugh about it and only got a light hearted telling off.
Brilliant memories, and Andrew, let me say "Thanks for that".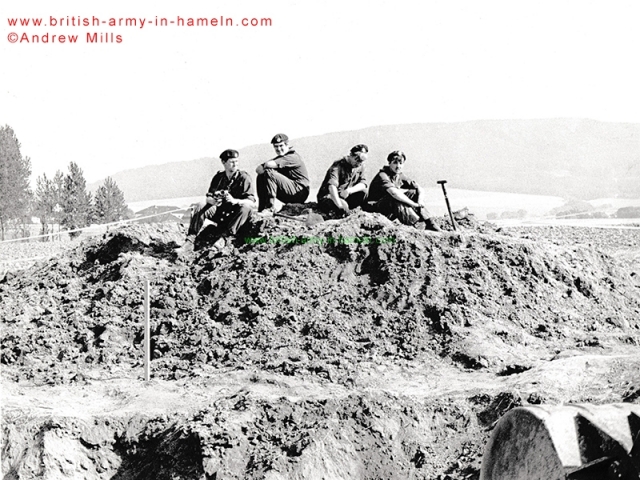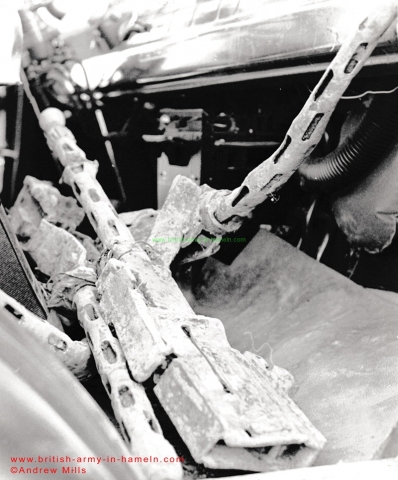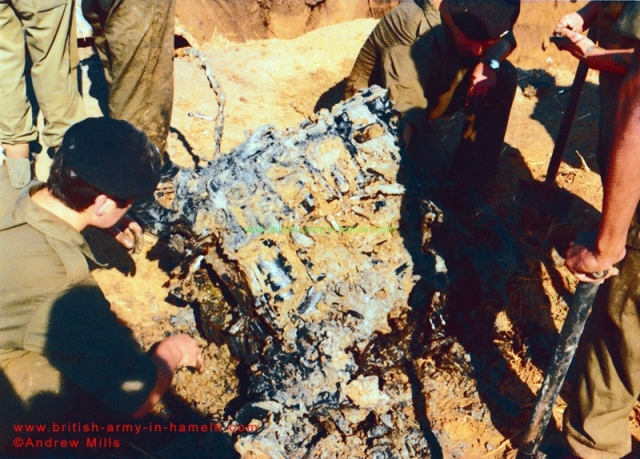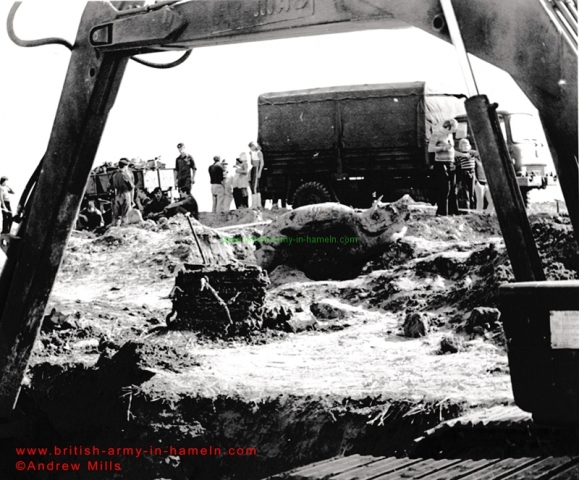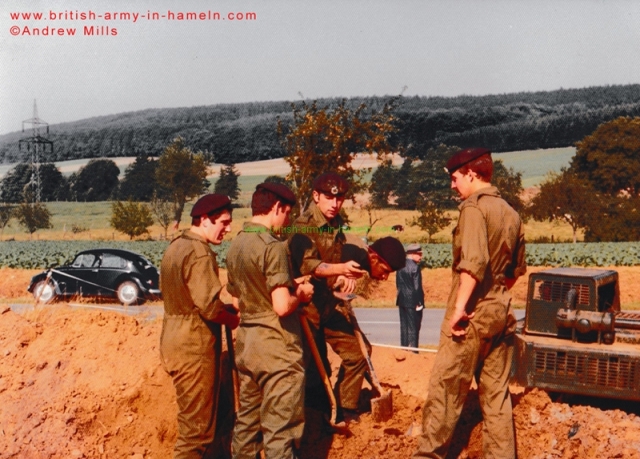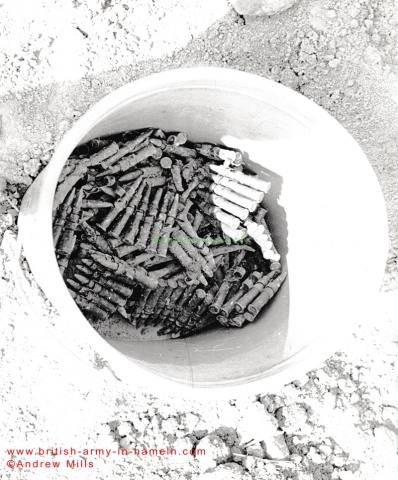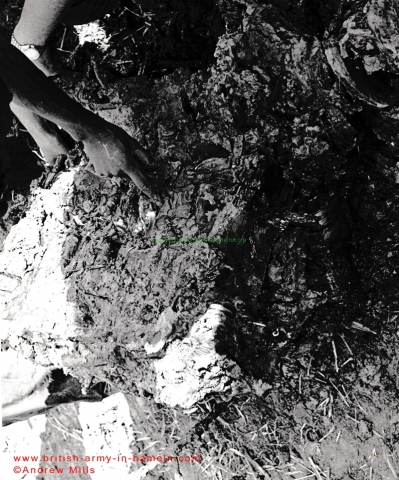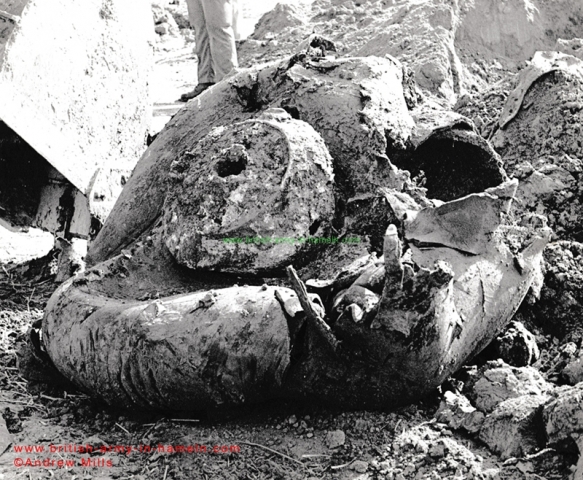 Andrew Mills, fand vor ein paar Wochen meine Webseite über die britischen Streitkräfte in Hameln. Speziell fand er den Bericht über den Lancaster Bomber, der 1974 ausgegraben wurde. Er war sehr beeindruckt und die Zeitungsausschnitte, denn sie brachten einige Erinnerungen zurück. Warum?Andy war seinerzeit dabei und selbst ein paar Fotos machen können. Er hat sie gescannt und schickte sie für die Website.
Andrew kam im Juli 1972 in Hameln an und diente mit dem 8Tp 73 Amphibious Engineer Squadron bis Juli 1975. Dann wurde er in 23 Amphibious Engineer Squadron versetzt und blieb dort bis September 1976. Nach seiner Zeit mit 23 Amph wurde er zurück nach Großbritannien versetzt
Folgende Zeilen schrieb er mir:
Rückblickend auf die Fotos finde ich, dass meine Erinnerung mich sehr im Stich lässt, kann ich mich doch nur an ein oder zwei meiner Kameraden erinnern. Die Arbeit, die wir an diesem Tag gemacht haben, war für mich sehr interessant und lohnend – war sie doch etwas ganz anderes als das was wir sonst zu tun hatten. 
Aber ich hatte eine wunderbare Zeit in der schönen Stadt Hameln. Ich war ein häufiger Besucher von George's Bar, der Badewanne, der Green Lantern, dem "Turk's Head" an der Spitze der Schornhorst Straße und einigen anderen, deren Namen mir jetzt gerade nicht einfallen wollen. Ich lernte auch das Mauern nach der Armee und war auch einige Zeit in Deutschland um hier zu arbeiten. 
Aber an den ersten und zweiten RSM kann sich Andy erinnern. Er schrieb mir: Kurz nach der Ankunft im Jahr 1972 war ich als Barmann in die Sergeants Mess beordert. 
 
Ich erinnerte mich auch an Joe Herman und erinnere mich an einen lustigen Zwischenfall. Joe lebte in den "Married Quarters" neben dem Gundolph Park. Ich war auf Wache an einem Sonntag zusammen mit John Riley, der ein sehr lustiger Kerl gewesen ist. Plötzlich kam ein Mann auf uns zu mit den Händen in der Tasche, "Riley, ich habe eine Pistole" hörten wir ihn sagen. Ich hatte keine Ahnung, wer das war, aber Riley wusste es. John warf seinen Schlagstock über den Zaun und sagte: "Fuck, dass ich werde sofort die Tore öffnen". Wir gingen tatsächlich zum Tor und erzählte mir, wer "dieser verdammte Idiot war". Nachdem ich das wusste, glaubte ich das wir richtig Ärger bekommen würden, aber Joe hatte einen unglaublich tollen Humor. Am Tor lachten wir alle darüber. 
Vielen Dank an Dich Andrew für Deine Geschichte!