© Arnd Wöbbeking
Three years after disbanding of the Hameln Garrison some Royal Engineers were back in town for a weekend. It is unbelievable around 100 lads visited for a REunion the town. Some arrived a few days before to have a look aorund the town and to see what have changed during the years. Some of them stayed here 30 or 40 years ago. They came back for the 1st time after their leaving. Thursday, Friday and Saturday evening they meet at the Bathtub or also on the Winefest in Hameln. And on Sunday there was a brilliant BBQ at GEORGES (Zum Schultheiß). It is good to be here again, Hameln was my best posting ever I have heard several times. Some took the time to visit other places of interest nearby like the Hermannsdenkmal. On Saturday also a boattrip on the Weser took part again like every year. But not only Royal Engineers stayed at Georges on Sunday. I was very surprised to meet there two lads form 26 RCT. Barry Wood and Bob Lippett, they are still living here in Hameln! Never knew that before. For me it was again very interesting to listen to the stories of the Sappers which served here in Hameln during the ages. Thanks for your stories!
+++
Three years gone….. but still there….
Drei Jahre nach dem Auflösen der Hamelner Garnison waren einige Royal Engineers für ein Wochenende wieder in der Stadt. Es ist unglaublich rund 100 Jungs besuchten für eine Treffen der Stadt. Einige kamen ein paar Tage vorher an, um einen Blick auf die Stadt zu werfen und zu sehen, was sich in den Jahren verändert hat, waren sie doch das letzte Mal vor 30 oder auch 40 Jahren hier. Donnerstag, Freitag und Samstagabend trafen sie sich in der Badewanne oder auch auf dem Weinfest in Hameln. Und am Sonntag gab es ein Super-BBQ bei GEORGES (Zum Schultheiß). Es ist gut wieder hier zu sein, Hameln war meine beste Zeit, das habe ich wieder mehrfach gehört.. Manche nahmen sich auch die Zeit, um andere Sehenswürdigkeiten wie das Hermannsdenkmal zu besuchen. Am Samstag stand, wie jedes Jahr eine Dampferfahrt auf der Weser auf dem Programm. Völlig überraschend für mich war aber auch das Treffen mit zwei Kameraden des 26 Regeiment Royal Corps of Transport. Barry Wood und Bob Lippett, sie wohnen hier sogar noch in Hameln! Für mich war es wieder sehr interessant, die Geschichten der britischen Soldaten zu hören, die hier in Hameln im Laufe der Zeit Ihre Zeit gedient haben. Danke für Eure Geschichten!
+++
Sad not all to see on the photo….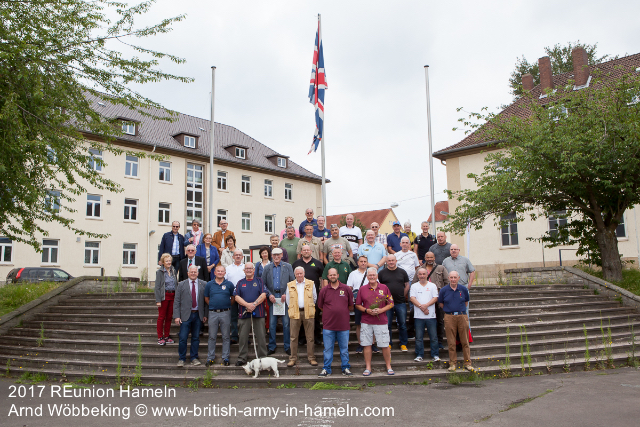 +++