Mit diesem Seitenabschnitt, habe ich eine lange Suche beenden können!
Dank einer lieben Bekannten, kann ich nun hier eine
Liste aller kommandierenden Offiziere in Hameln zeigen!
—
In this section of the page, I've can end a long search!
Thanks to a dear friend who I can now show here a list of all commanding officers in Hamelin!
—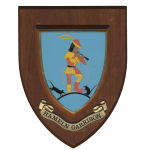 © Arnd Wöbbeking Einen sehr wichtigen Beitrag zur Verständigung zwischen Deutschen und den Britischen Truppen haben die Verbindungsoffiziere übernommen! Verantwortlich für die Kommunikation zwischen Stadt und Army, Regelung von Differenzen. Betreuung der Presse in Zusammenarbeit mit dem Pressebüro der Streitkräfte! Hier eine Liste der Verbindungsoffiziere die für Hameln zuständig waren! +++ A very important contribution …