© Arnd Wöbbeking
Artlenburg, a small town on the banks of the Elbe. Historically documented is this place with its ford over the Elbe since the first century. The Romans use this transition as do many after them. The salt road leads along here and the Ertheneburg on the east side secured the ford against the Slavs and Wends. Let's make a leap in time until the year 1945. On 29.04.1945 here at Artlenburg amphibious tanks of the British Army crossed the River to advance further into the eastern parts of Germany. Based on this historical background, the cooperation between the Amphibious Pioneer Battalion 130 and the 28th Amphibious Engineer Regiment RE was agreed and established in 1972 with the aim of better cooperation and training. In order to give this cooperation the necessary symbolic power, the exercise "NEPTUNES TRIDENT" took place on the night of November 30, 1977, on December 1, 1977, at precisely this point of transition.
+++
Artlenburg, eine kleine Stadt an den Ufern der Elbe. Historisch belegt ist dieser Ort mit seiner Furt über die Elbe seit dem ersten Jahrhundert. Die Römer nutzen diesen Übergang wie auch viele nach ihnen. Die Salzstraße führt hier entlang und die Ertheneburg auf der Ostseite sicherte die Furt gegen die Slaven und Wenden. Machen wir einen Zeitsprung bis in das Jahr 1945. Am 29.04.1945 überquerten hier bei Artlenburg Schwimmfahrzeuge der britischen Armee um weiter in die Ostteile Deutschlands vorzustoßen. Ausgehend von diesem historischen Hintergrund wurde im Jahr 1972 die Kooperation zwischen dem amphibischen Pionierbataillon 130 und dem 28th Amphibious Engineer Regiment RE mit dem Ziel einer besseren Zusammenarbeit und Ausbildung vereinbart und etabliert. Um dieser Zusammenarbeit die notwendige Symbolkraft zu verleihen, fand in der Nacht vom 30. November auf den 1. Dezember 1977 genau an dieser Übergangstelle die Exercise "NEPTUNES TRIDENT" statt.

During the NEPTUNES TRIDENT exercise in 1977, 45 Type M2 ferries were used. It involved 450 British and 180 German soldiers. 13 more ferries were in reserve as well in the water. The partnership was sealed and confirmed by a certificate handed over by Colonel Christian Hartmann and Brig. Gen. Mike Groone to the troops.
+++
Währrend der Übung "NEPTUNES TRIDENT" im Jahr 1977 wurden 45 Fähren vom Typ M2 eingesetzt. Daran beteiligt waren 450 britische und 180 deutsche Soldaten. 13 weitere Fähren befanden sich als Reserve auch imer Wasser. Besiegelt und bestätigt wurde die Partnerschaft mit einer Urkunde, die Oberst Christian Hartmann und Brigadegeneral Mike Groone den beiden Einheiten übergaben.

Twenty years later on 03.12.1997 this partnership was confirmed by a new bridging exercise with the name "PARTNERSHIP 97" in Artlenburg. Both units now equipped with the M3, built within a short time a 239.7 m long, out of 21 vehicles of the new system on the Elbe. The jubilee was confirmed by a certificate. The certificate was shown 2014 during exhibition "Brücken bauen – Building Bridges" in the Museum of Hameln.
+++
20 Jahre später am 03.12.1997 wurde diese Partnerschaft durch einen erneuten Brückenschlag mit dem Namen "PARTNERSHIP 97" in Artlenburg bestätigt. Beide Einheiten inzwischen mit der M3 Schnellschwimmbrücke ausgestattet, bauten innerhalb kürzester Zeit eine 239,7 m Lange, aus 21 Fahrzeugen des neuen Systems über die Elbe. Die Urkunde und Bestätigung dieses Jubiläums wurde 2014 in der Ausstellung "Brücken bauen – Building bridges" im Hamelner Museum ausgestellt.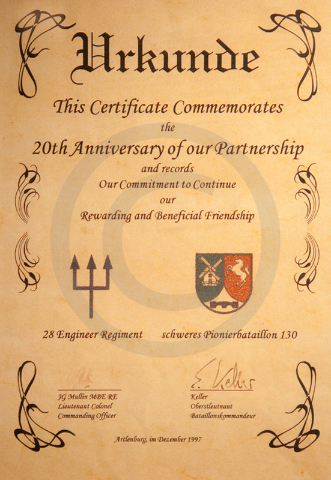 Eckhard Uhde one of my best friends was there at the time and was able to contribute impressive photos of this anniversary to this article. Thanks for that!
+++
Eckhard Uhde einer meiner besten Freunde war seinerzeit dabei und konnte beeindruckende Photos dieses Jubiläums zu diesem Artikel beisteuern. Danke schön dafür!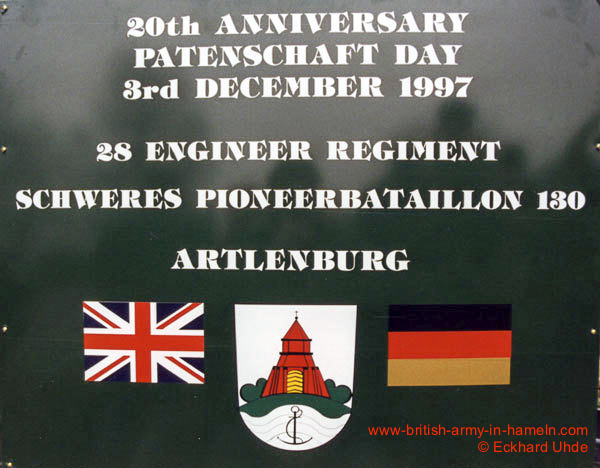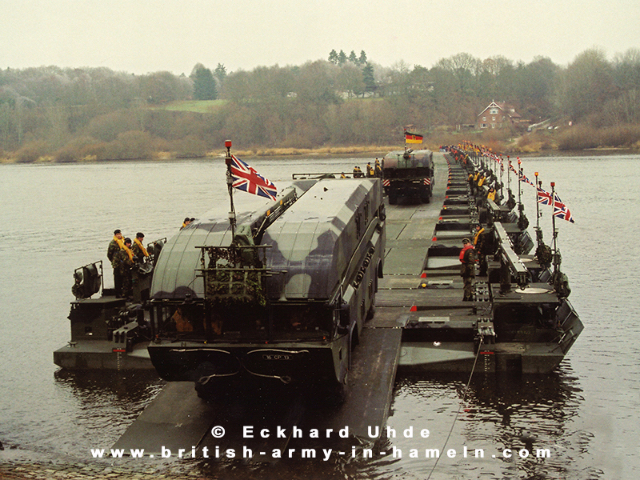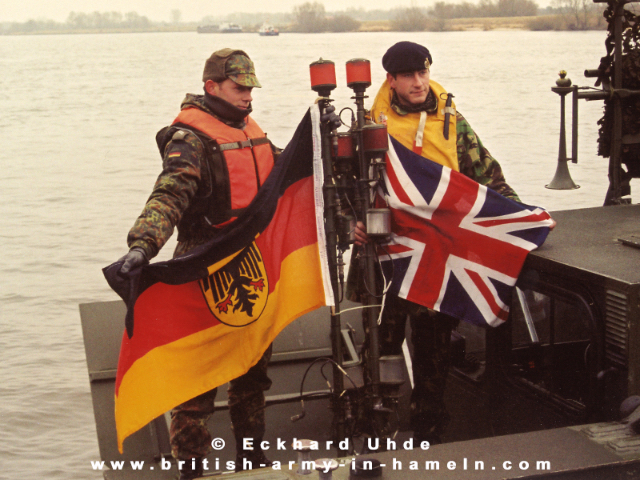 This partnership still exists today, despite many reforms. Although the Hameln site was dissolved, the 23 Amphibious Troop RE and 412 Amphibious Troop (TA) continues the tradition of the 28 Amphibous Engineer Regiment RE and 28 Engineer Regiment. There were also many changes in the Bundeswehr in the meantime. In 1997 it was still the heavy pioneer battalion 130. Meanwhile, it is called Panzerpionierbatallion 130 with the 4th company PiBtl 901 maintains this tradition.
On Monday, November 27, 2017, the soldiers with their amphibious vehicles of type M3 made their way from the common location Minden to Artlenburg. 6 British Rigs and 20 German Rigs were used in this anniversary maneuver called "FULL THROTTLE". 45 British Royal Engineers and 155 German pioneers drove into their operational area during typical November weather. The "THEODOR KÖRNER KASERNE" in Lüneburg served as the staging area this time. This too is dedicated to tradition, as this barracks was transferred in 1958 by the British armed forces to the young German Army the barracks were called "ALMA BARRACKS".
+++
Diese Partnerschaft hat auch heute, trotz vieler Reformen, noch Bestand. Auch wenn der Standort Hameln aufgelöst wurde, führt der 23 Amphibious Troop RE und 412 Amphibious Troop (TA) die Tradition des 28 Amphibous Engineer Regiments RE und 28 Engineer Regiment weiter. Auch bei der Bundeswehr gab es in der Zwischenzeit viele Veränderungen. War es 1997 noch das schwere Pionierbataillon 130 ist es inzwischen das Panzerpionierbatallion 130 mit der 4. Kompanie PiBtl 901, die diese Tradition aufrecht erhält.
Am Montag 27.November 2017 machten sich die Soldaten mit Ihren Amphibienfahrzeugen vom Typ M3 vom gemeinsamen Standort Minden auf den Weg nach Artlenburg. 6 britische Fähren und 20 deutsche Fähren wurden bei diesem Jubiläumsmanöver mit dem Namen "FULL THROTTLE" eingesetzt. 45 britische Royal Engineers und 155 Deutsche Pioniere fuhren bei typischem Novemberwetter in Ihr Einsatzgebiet. Als Bereitstellungsraum diente diesesmal die "THEODOR-KÖRNER-KASERNE" in Lüneburg. Auch das ist der Tradition gewidmet, denn diese Kaserne wurde 1958 von den britischen Streitkräften an die seinerzeit noch junge Bundeswehr übergehen. Die Briten nannten die Kaserne "ALMA BARRACKS"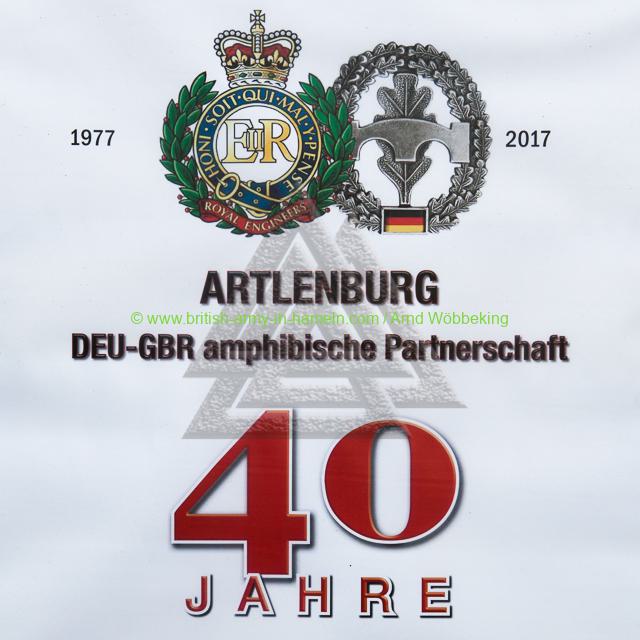 The 2nd Day, Thuesday 28th November 2017
It was practiced intensively on the Elbe. Early on the day, the M-boats were launched and then of course the M3. It was very cold and windy, but we were lucky, from time to time the sun was shining and the first bridge closing with 20 ferries took place around 1.30 pm. On both sides, the ramps are lying in the water, so the troops decided to use one more rigs to use, so that the second bridge closure took place about 60 minutes later with 21 ferries.
+++
Der zweite Tag, Dienstag 28.11.2017
Es wurde intensiv auf der Elbe geübt. Schon früh wurden die M-Boote zu Wasser gelassen und dann natürlich auch die M3. Sehr kalt und windig war es, aber wir hatten Glück, ab und zu schien die Sonne und der erste Brückenschluss mit 20 Fähren erfolgte gegen 13.30 Uhr. Auf beiden Seiten lagen die Rampen im Wasser, die Einheiten entschieden sich, eine Fähre mehr in die Brücke einzubauen, so daß der zweite Brückenschluss ca. 60 Minuten später mit 21 Fähren erfolgte.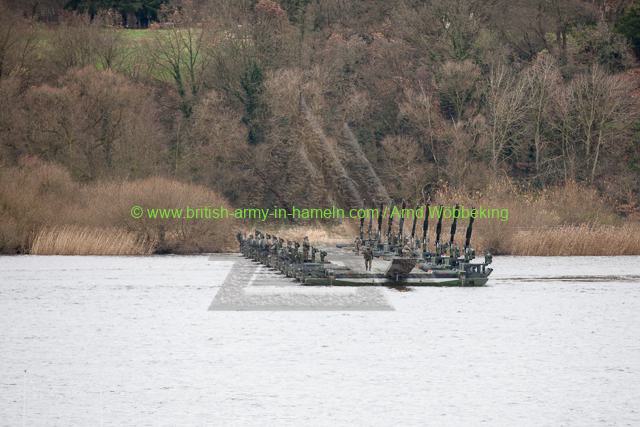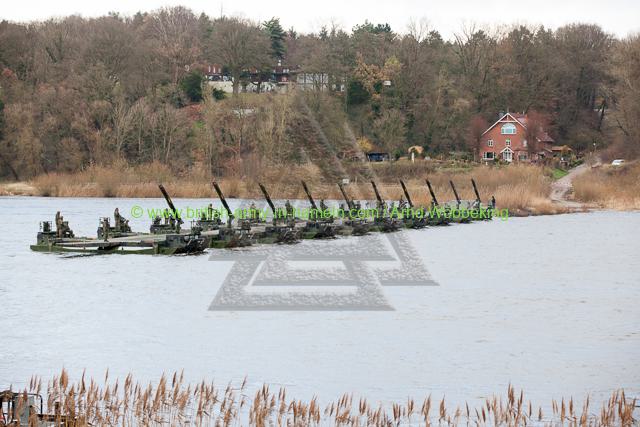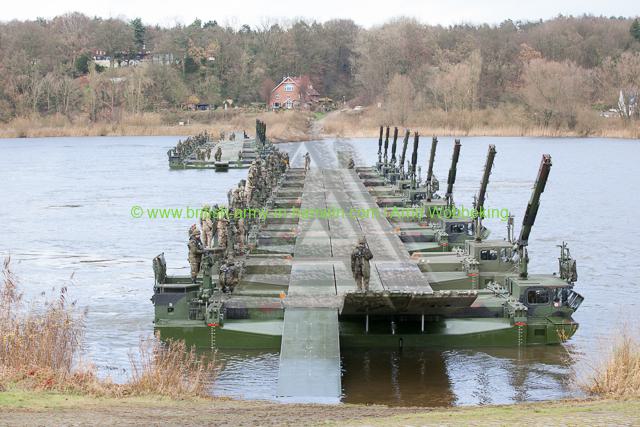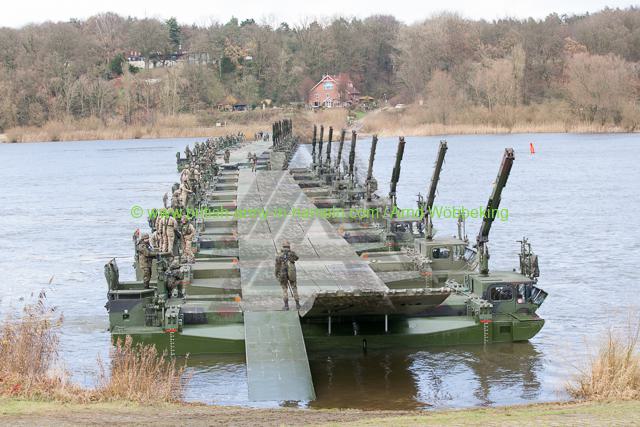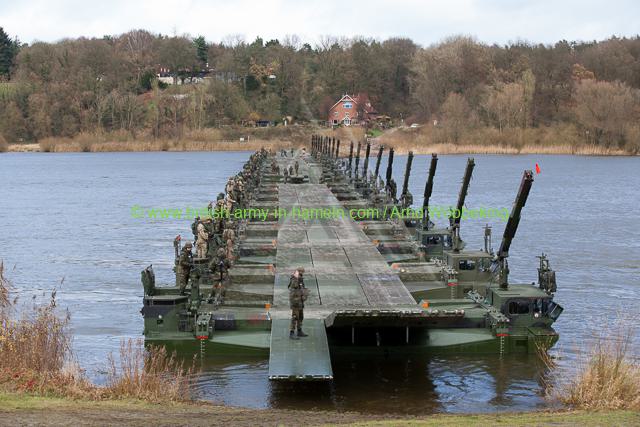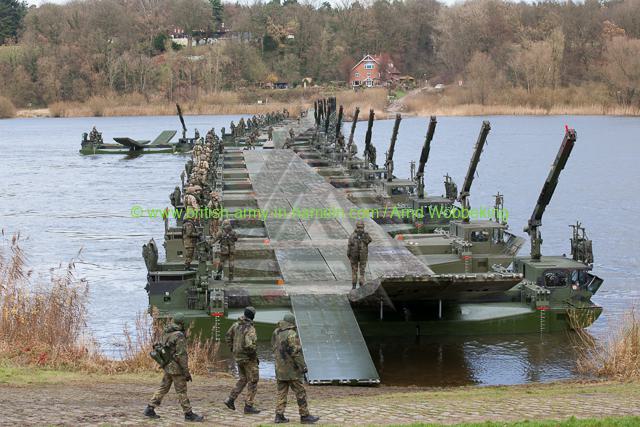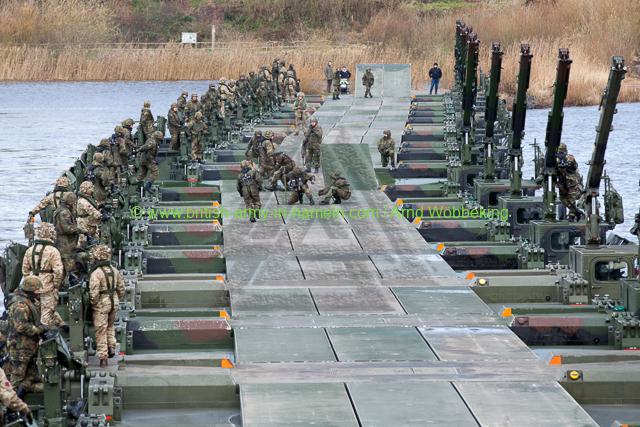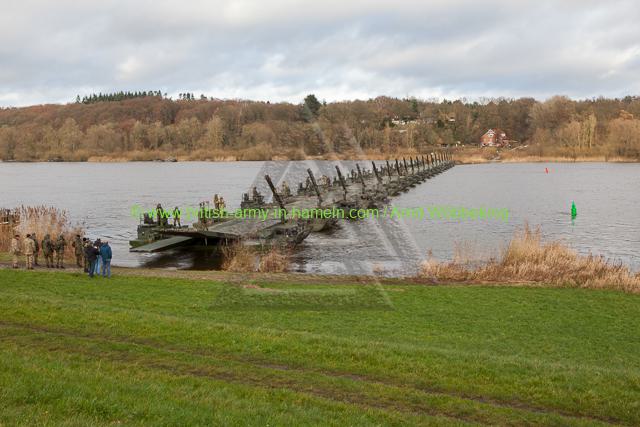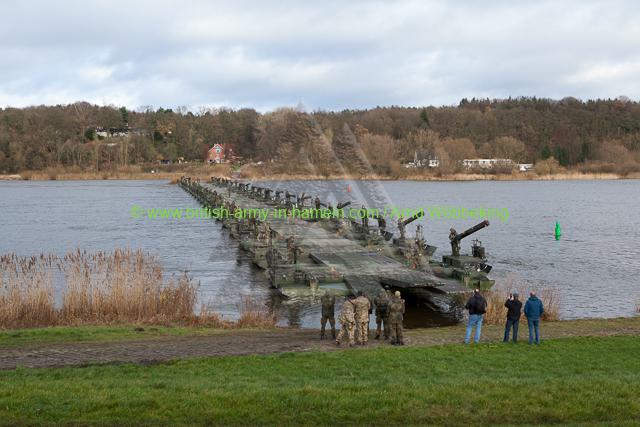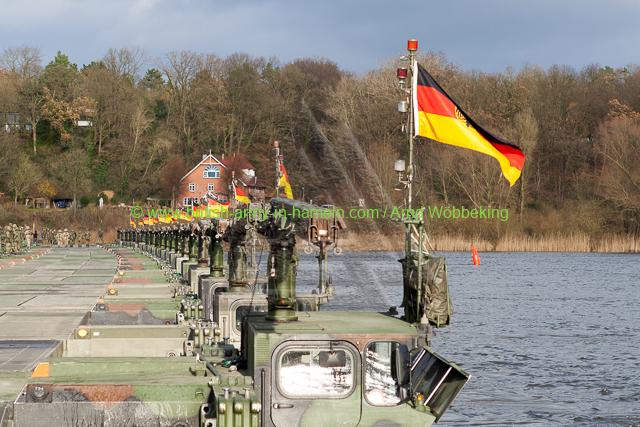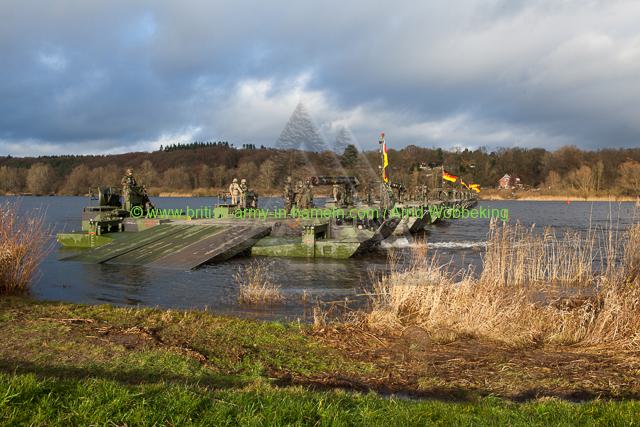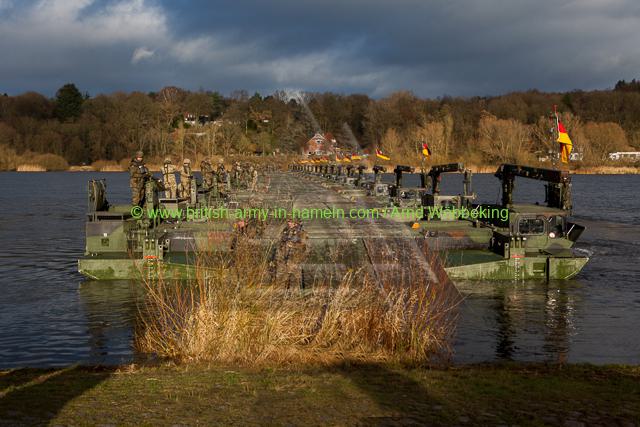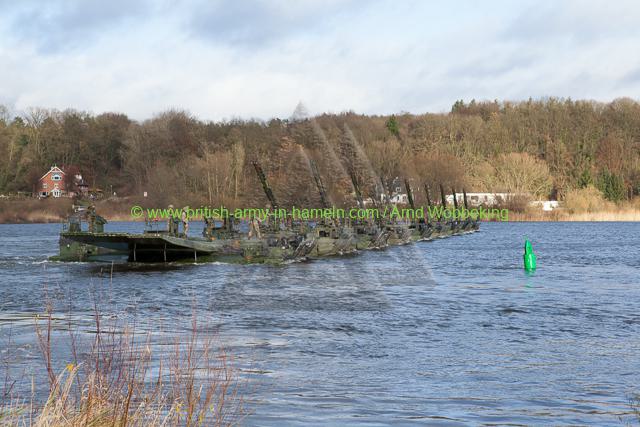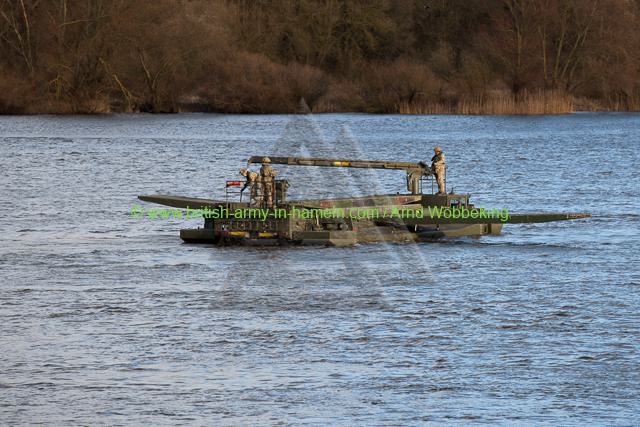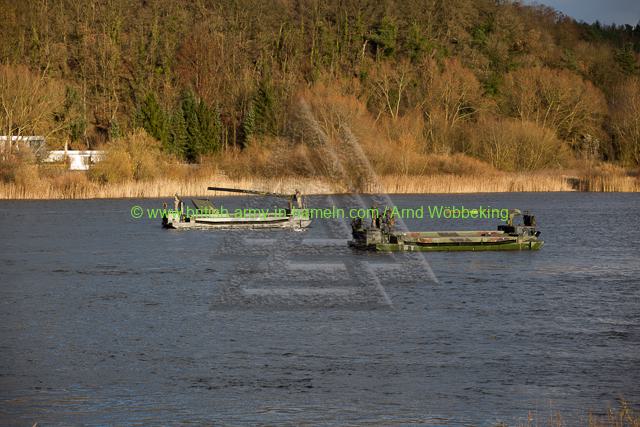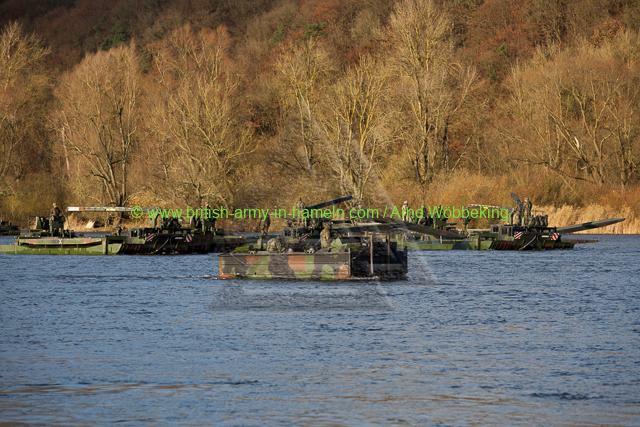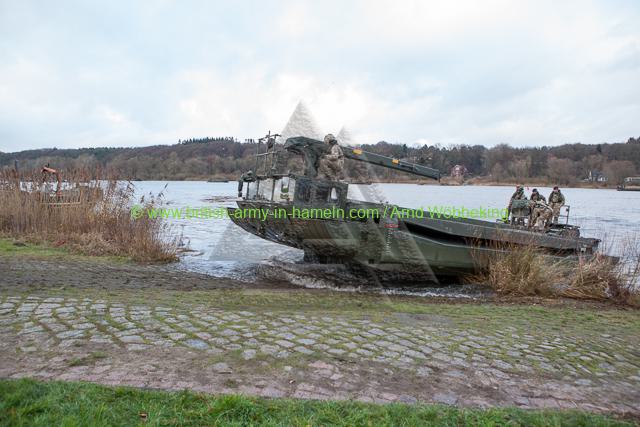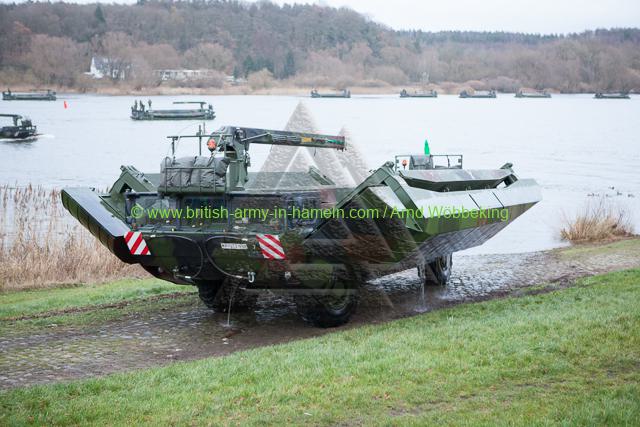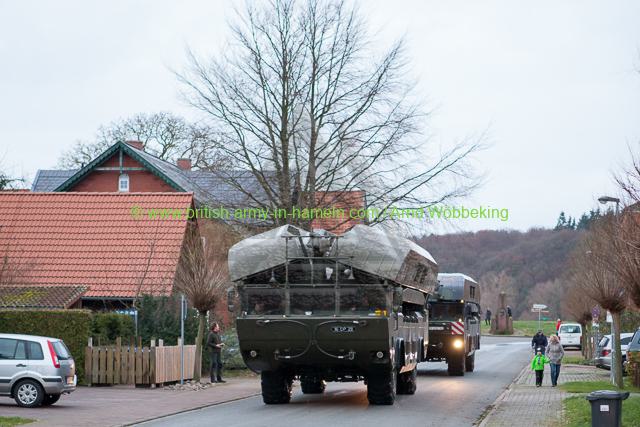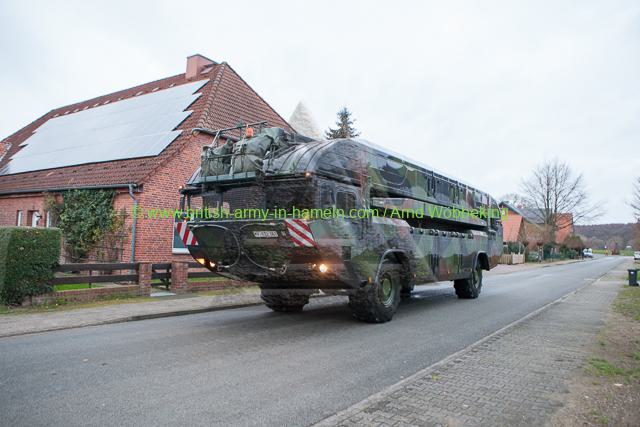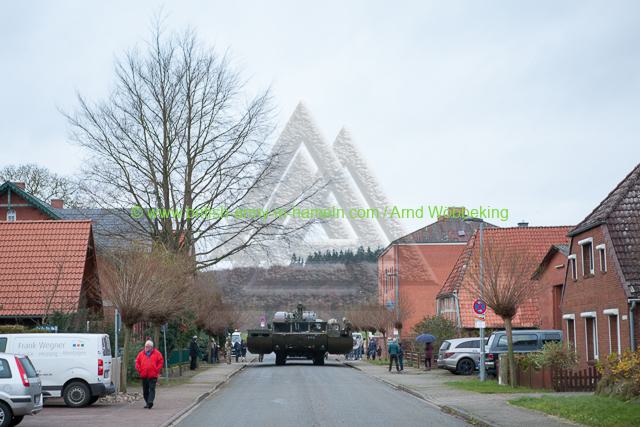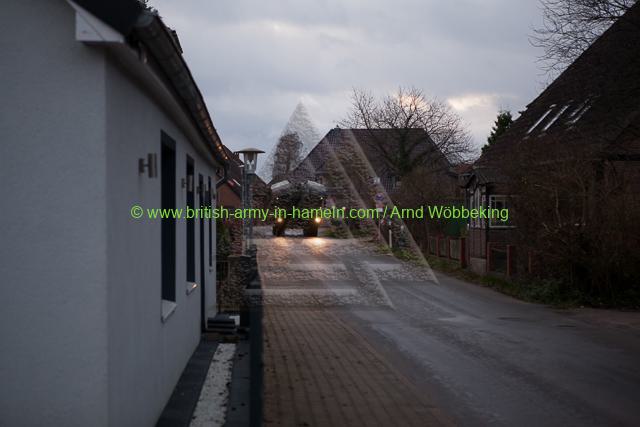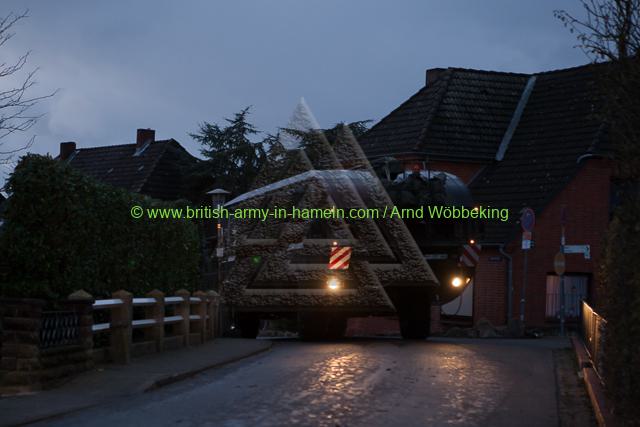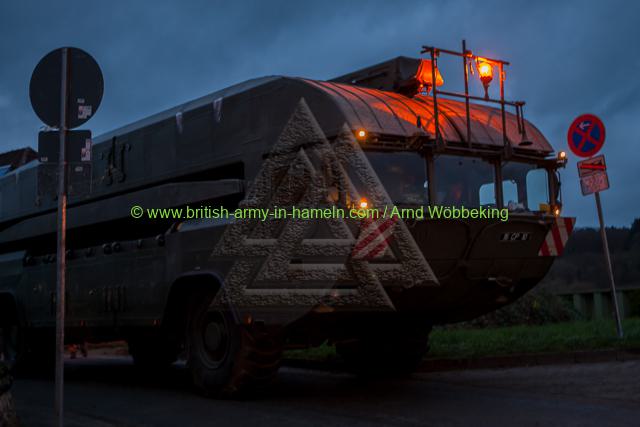 The third day, Wednesday 29.11.2017
Also today on the third day of the anniversary exercise in Artlenburg on the Elbe was diligently practiced. Three complete bridge connections were made. It is impressive to see how well the men on the amphibians control their vehicles, how fast everything runs and with what precision, a young mother from Artlenburg told me, who stood with two of her children on the banks of the Elbe.
Many spectators were present to watch the busy life on the Elbe. Also some media representatives and higher ranked officers of the Bundeswehr and the British Army were on site. It should be emphasized that all the soldiers were super friendly to all visitors, anyone who wanted to know something, all soldiers were willing to answer questions.
+++
Der dritte Tag, Mittwoch 29.11.2017
Auch heute am dritten Tag der Jubiläumsübung in Artlenburg an der Elbe wurde fleissig geübt. Drei komplette Brückenschlüsse wurden durchgeführt. Es ist beeindruckend zu sehen wie gut die Männer auf den Amphibien ihre Fahrzeuge beherrschen, wie schnell alles abläuft und mit welcher Präzision, so sagte mir eine junge Mutter aus Artlenburg, die mit zweien Ihrer Kinder am Elbufer stand.
Viele Zuschauer waren inzwischen zugegen um das rege Treiben auf der Elbe zu beobachten. Auch einige Medienvertreter und höher rangige Offiziere der Bundeswehr und der Britischen Armee waren vor Ort. Hervorzuheben ist, das alle Soldaten superfreundlich zu allen Besuchern waren, jedem der etwas wissen wollte, bereitwillg Rede und Antwort standen. Egal ob Mannschaftsdienstgrad oder Offizier.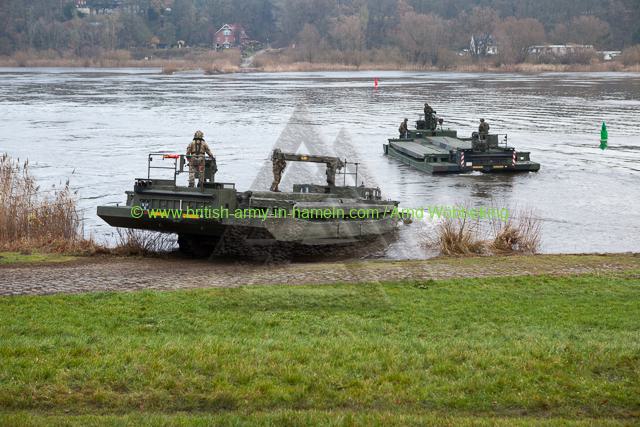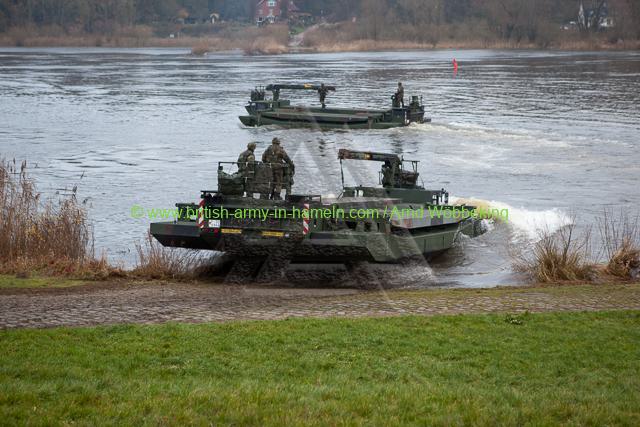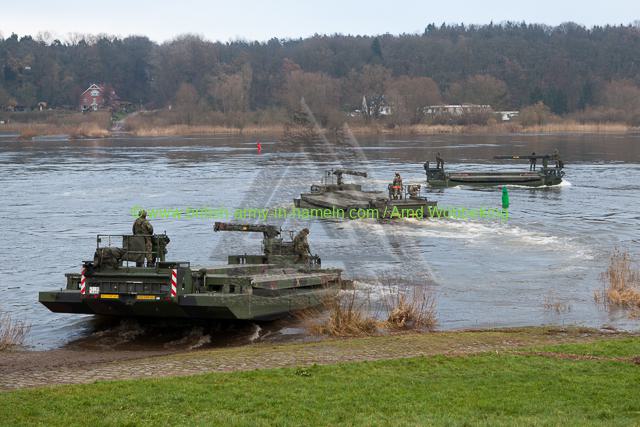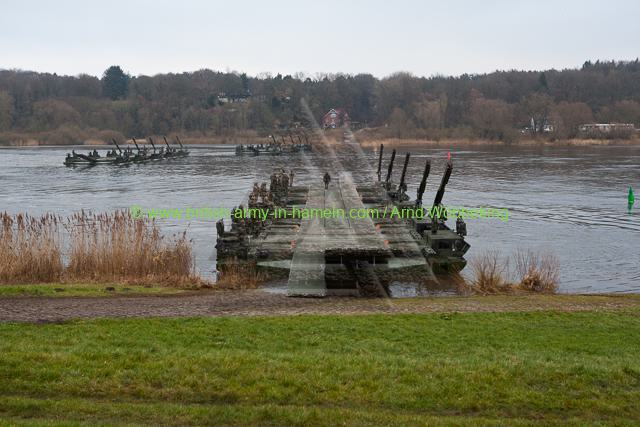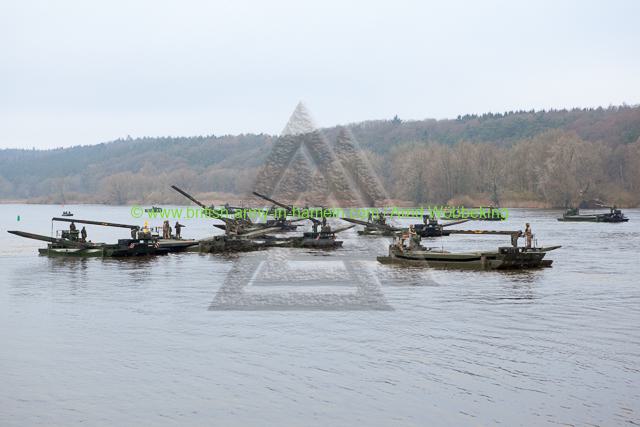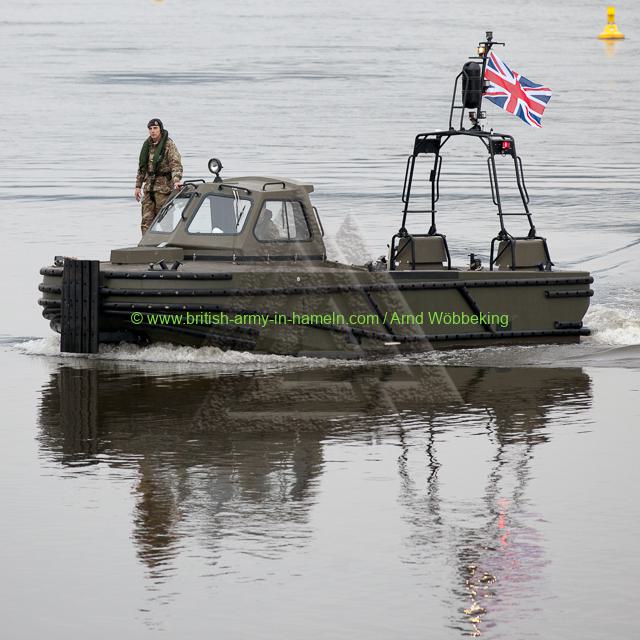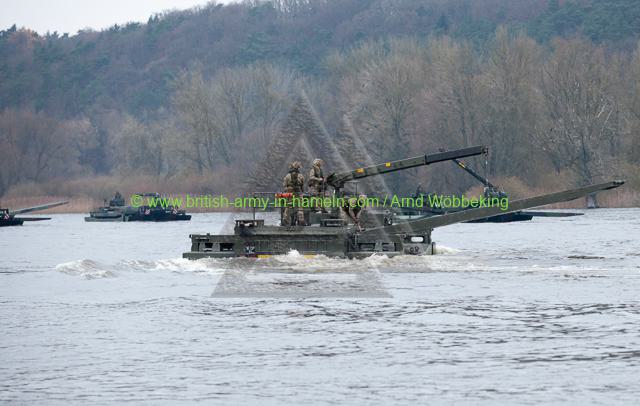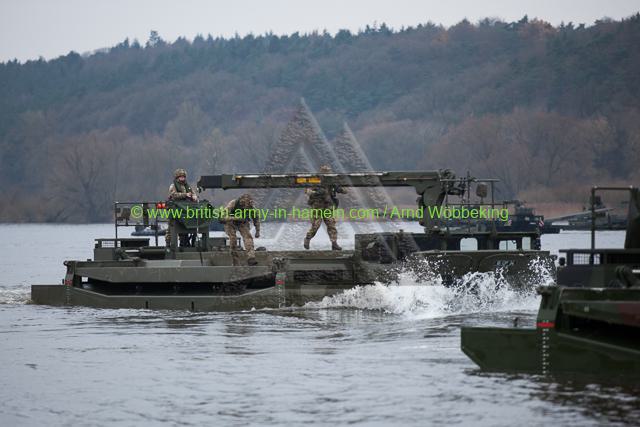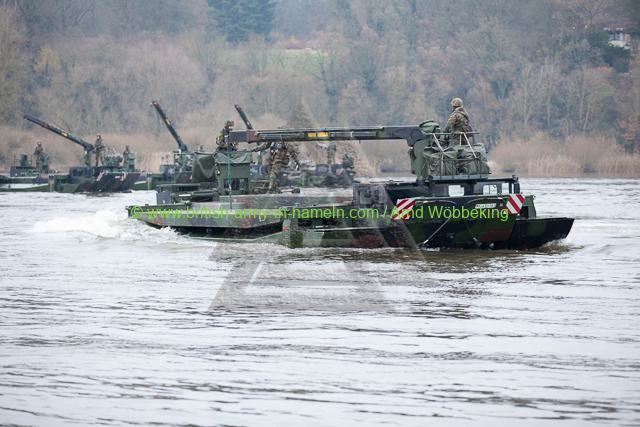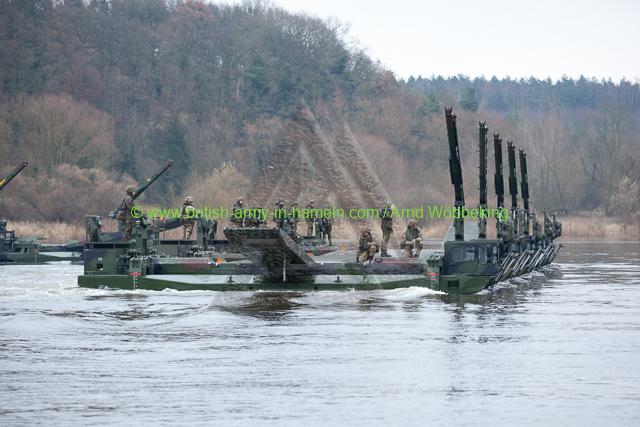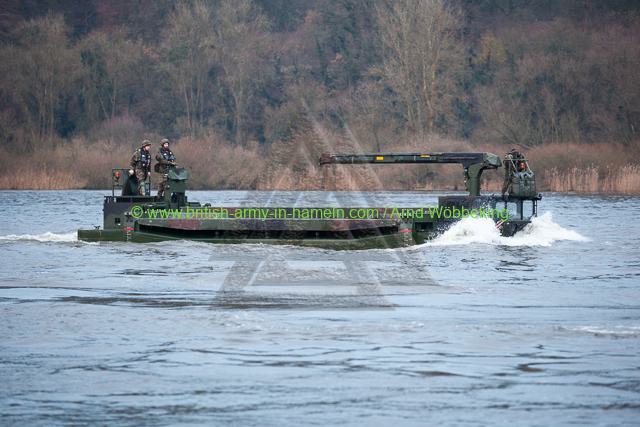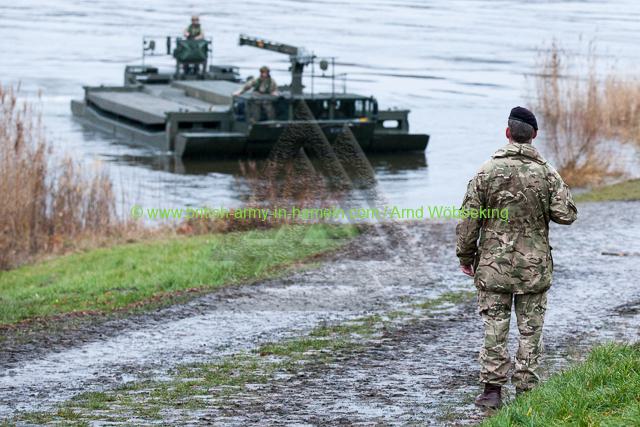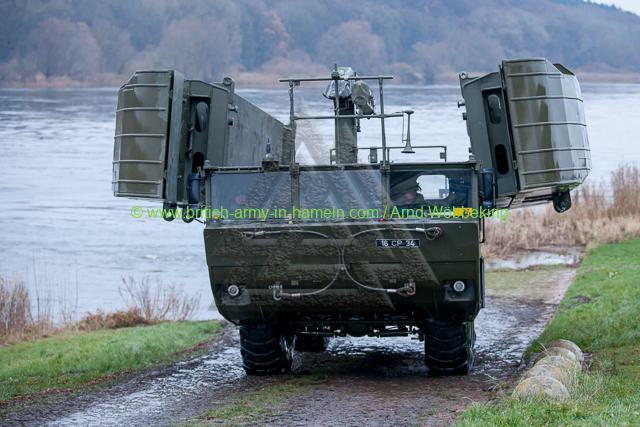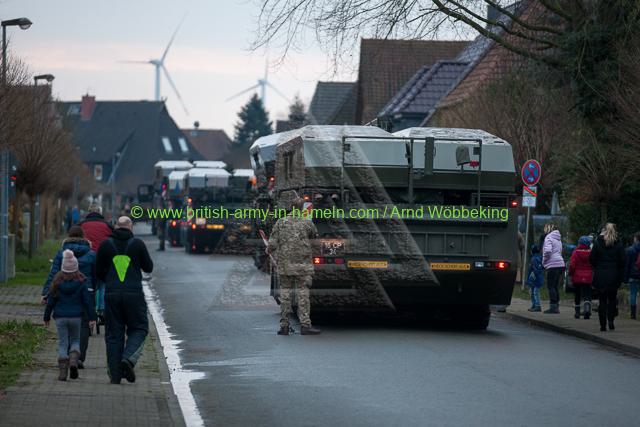 Thursday 30.1..2017 – The last but most important day of the exercise "FULL THROTTLE"
The most important day, because it was the official event to renew the partnership of both units and countries. As usual, the M-boats were first launched and the Elbe was measured. Around 10:00 the invited guests and senior officers of the German Armed Forces and the British Army appeared to observe the jubilee bridge strike. Among them Generalleutnant Carsten Jacobsen, Generalmajor Laubenthal and of course the two commanding officers Oberstleutnant Lammerschmidt and Lieutenant Colonel Windram TD RE. Likewise invited guests included some officers of the US Army and the Dutch Landmacht as well as representatives of the surrounding communities.
As a special attraction, the Bundeswehr had come up with some historic Vehicles for this historic bridge, with which the senior officers were driven onto the bridge. And in the middle of the Elbe there was the obligatory handshake, just like 40 years ago.
After that, the bridge was opened to the public for about half an hour and almost all of the more than numerous visitors have taken the opportunity to cross their Elbe in a special way. At 13.oo o'clock all guests of honor and responsible persons met in the Schützenhof. The welcome speech was given by Oberstleutnant Lammerschmidt and his counterpart Lieutenant Colonel Windram TD RE. After the Welcome Speech, both signed the renewal certificate to the 40-year partnership. Mayor Rolf Twesten also welcomed the guests and handed over the newly created local chronicle and a coat of arms of Artlenburg to both commanders.
At this point I would like to conclude, but not without many thanks to Oberstleutnant Stephan Wessel, Major Burdich, Captain Jones and the soldiers of both nations involved for the absolutely great cooperation.
+++
Donnerstag 30.1..2017 – Der letze aber wichtigste Tag der Übung "FULL THROTTLE"
Der wichtigste Tag, denn es war die offizielle Veranstaltung zur Erneuerung der Partnerschaft beider Einheiten und Länder. Wie gewohnt wurden als erstes die M-Boote zu Wasser gelassen und die Elbe vermessen. Gegen 10.00 Uhr erschienen geladene Gäste und hohe Offiziere der Bundeswehr und der Britischen Armee um den Jubiläumsbrückenschlag zu beobachten. Darunter Generalleutnant Carsten Jacobsen, Generalmajor Laubenthal und natürlich die beiden kommandierenden Offiziere Oberstleutnant Lammerschmidt und Lieutenant Colonel Windram TD RE. Ebenso zu geladenen Gästen gehörten einige Offiziere der US-Armee und der Niederländischen Landmacht sowie Vertreter der umliegenden Gemeinden.
Als besondere Attraktion hatte sich die Bundeswehr was einfallen lassen. Eigens für diesen historischen Brückenschlag wurden Fahrzeug von vor 40 Jahren geliehen, mit denen die hohen Offiziere auf die Brücke gefahren wurden. Und mitten auf der Elbe gab es dann den obligatorischen Handschlag, genau wie vor 40 Jahren.
Im Anschluß daran wurde die Brücke für die Öffentlichkeit für ca. eine halbe Stunde geöffnet und fast alle der inzwischen mehr als zahlreich erschienenen Besucher nutzen die Gelegenheit ihre Elbe auf eine besondere Art zu überqueren. Gegen 13.oo Uhr trafen sich dann alle Ehrengäste und Verantwortlichen im Schützenhof. Die Begrüßungsrede hielt Oberstleutnant Lammerschmidt und sein Gegenpart Lieutenant Colonel Windram TD RE. Bei unterzeichneten die Erneuerungsurkunde zur 40-jährigen Partnerschaft. Auch Bürgermeister Rolf Twesten begrüßte die anwesenden Gäste und übergab den beiden Kommandeuren die neu erstellte Ortschronik und ein Wappen des Ortes.
An dieser Stelle möchte ich schliessen, aber nicht ohne mich bei Oberstleutnant Stephan Wessel, Major Burdich, Captain Jones und den beteiligten Soldaten beider Nationen für die absolut klasse Zusammenarbeit und das Vertrauen bedanken.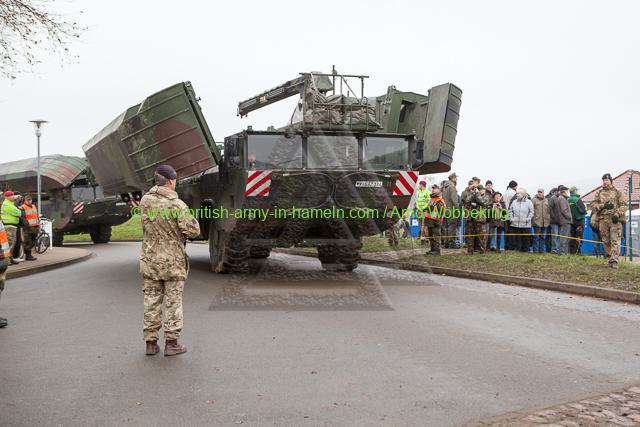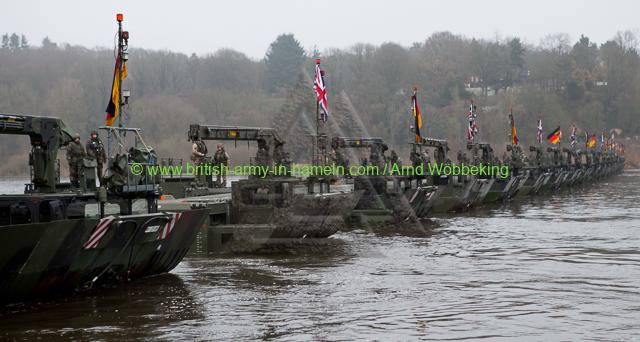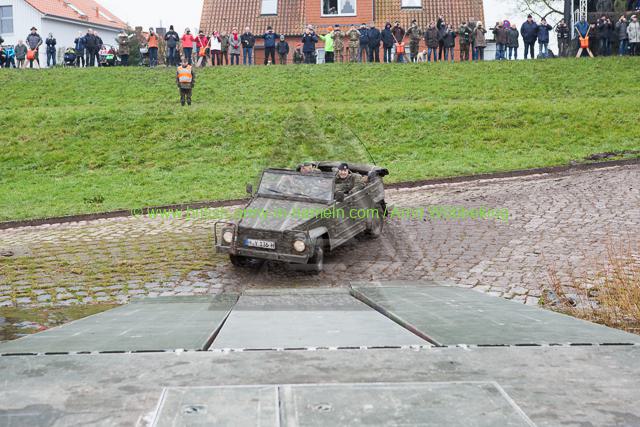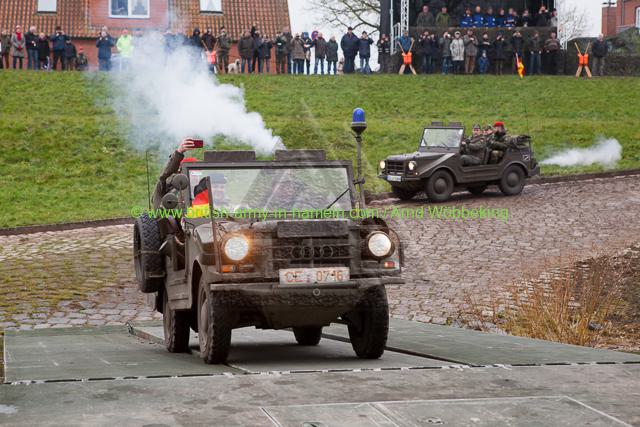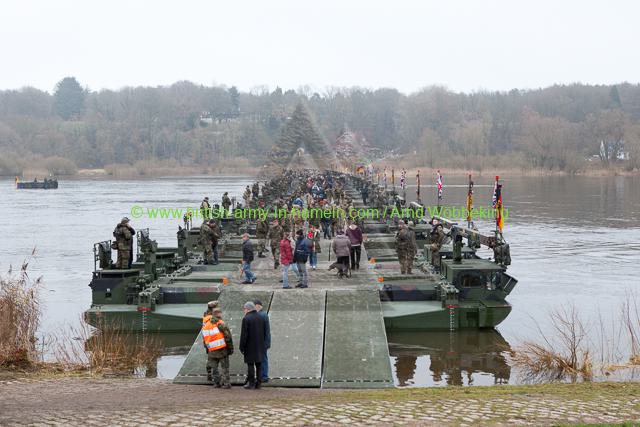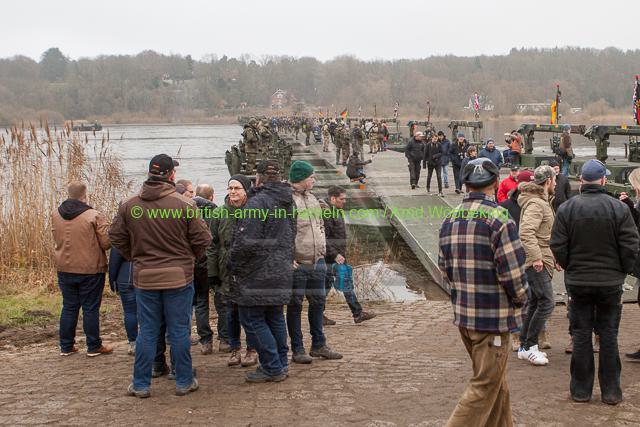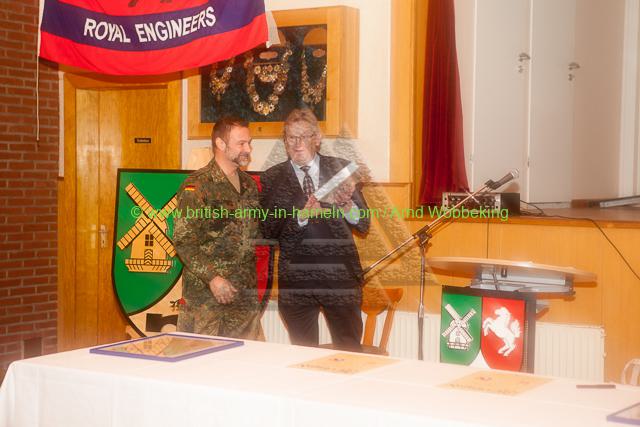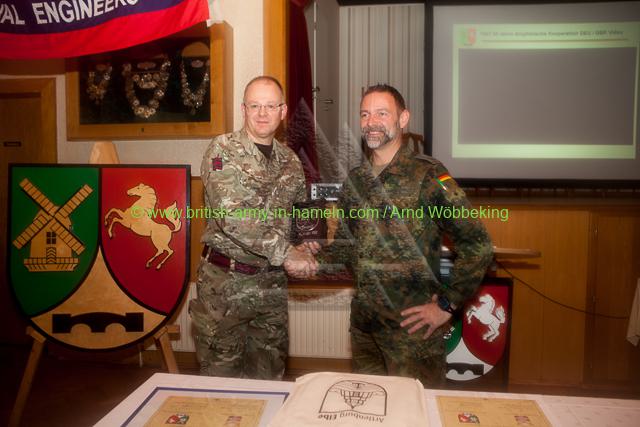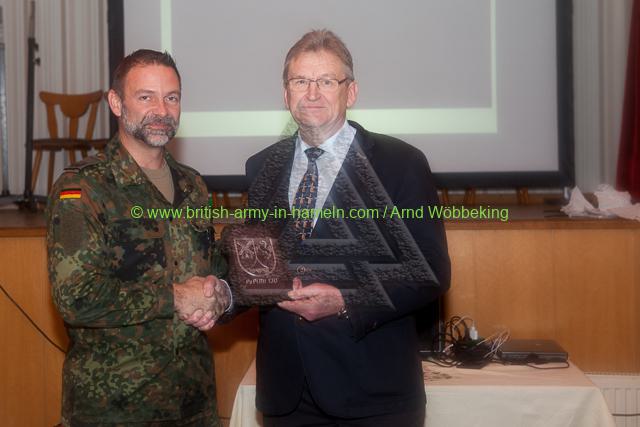 Weitere Photos der gesamtenÜbung finden Sie hier: / More Photos you will find out here:
Photos vom 28.11.2017 EXERCISE "FULL THROTTLE"
Photos vom 29.11.2017 EXERCISE "FULL THROTTLE"
Photos vom 30.11.2017 EXERCISE "FULL THROTTLE"