© Arnd Wöbbeking
Das Hamelner Kino "Schauburg" diente von 1945 – 1956 als Truppenkino für die hier in Hameln stationierten Allierten Soldaten! 1956 wurde dann ein neues Kino mit 300 Plätzen eröffnet, welches sich am Gelände der GORDON BARRACKS (Linsingen Kaserne) befand und auch heute noch befindet!
Im Zuge der höheren Sicherheitsmaßnahmen in den 90er Jahren des letzten Jahrhunderts, wurde das Kino dann aber mit umzäunt und stand fortan nun direkt auf dem Gelände der Gordon Barracks, Süntelstraße 24, Block 29!
Das Kino, es bot sich dazu durch die Anordnung der Sitzreihen ja auch förmlich an, wurde auch oft als Hörsaal und Unterrichtsraum von den britischen Truppen genutzt! Ebenso wie ich aus einenm Facebook Kommentar entnehmen konnte, wurde der Kinosaal auch für Mitgliederversammlungen der für die Engländer arbeitenden Deutschen verwendet! 
Bis fast zum endgültigen "Aus" der Britischen Streitkräfte in Hameln war das "Flix" in Betrieb! Letzte Managerin des Kinos war Tanja Lambert! Sie hat dort als "Aushilfe" 1997 angefangen, weil sie jemandem einen Gefallen tun wollte! Bis zuletzt ist Sie dem Kino aber treu geblieben und hat dort wirklich jeden Job gemacht! Darum schmerzt es Sie natürlich besonders das auch das Kino den Streichungen der Britischen Armee zum Opfer gefallen ist! Allerdings, so sagte Sie mir, wäre es vielleicht so oder so mit dem Kino bald zu Ende gewesen, denn der Projektor der dort stand, ist noch ein 35mm Gerät der Firma Cinnemattica aus den 70er Jahren! Dieser ist natürlich schon in die Jahre gekommen und wäre wohl nicht durch ein digitales Gerät ersetzt worden! Kleiner Trost für Tanja, der Projektor bleibt erhalten und findet in den Archiven des Hamelner Museums seinen Platz! Tanja machte 1998 als Filmvorführerin Ihre Abschlußprüfung und Ihr erster Film den Sie im Flix gezeigt hat war "George of the Jungle"! Den Film, den Sie am meisten gehasst hat, war der Film "Titanic". Der Film lief ja über 180 Minuten, also mit Pause, weil die Rollen gewechselt werden mussten! Das zog den Abend dann immer unnötig in die Länge, so sagte Sie mir! Ein wenig mulmig wurde Ihr immer zumute, nach dem Film "Scream 2"! Denn währrend der Film lief, fingen im Vorführraum immer die Lichter an zu flackern und so verbreitete sich die gruselige Stimmung durch das Kino!
Walt Disney's "Frozen" war am 29.03.2014 der letzte Film den Sie gezeigt hat! 
Tanja kann sich an die letzten Preise erinnern, die wie folgt waren:
Seat Prices:
Adult (18 and over) 6 Euro
Child (3 – 17 years) 4 Euro
Students 4 Euro
Seniors (60 and over) 4 Euro
Family Ticket 16 Euro
Doors open 30 minutes prior to film showing
Vielen Dank an Tanja Lambert, The last Manager of "The Flix Cinema", Hameln
+++
The "Schauburg" Cinema in Hameln was the first troop cinema for the Allied Troops in Hamelin! But in 1956 a new cinema was opened with 300 seats nearby GORDON BARRACKS! As part of the increased security measures in the 90s of the last century, the cinema was then fenced and now situated within the grounds of Gordon Barracks, Süntelstraße 24, block 29! The cinema was also often used as a lecture hall and classroom by the British troops! Just as The movie theater was also used for meetings of Germans, who worked for the British Garrison! Until almost the final "off" of the British Forces in Hameln "Flix" was in operation! Last manager of the cinema was Tanja Lambert!
She started her career in 1997 as a temporary, because she wanted to do someone a favor. Tanja liked the job and so she made her exam for a projectionist and her first film she showed in Flix was "George of the Jungle"! The movie she hated the most was the movie "Titanic". The film was over 180 minutes, with break because the roles had to be changed! That drew the evening always unnecessary in the length, so she told me! When she had to show the Film "Scream 2", she always felt a little bit queasy, because during the film the lights always began to flicker in projection room so the creepy mood spread through the theater!
Disney's "Frozen" was the last film she showed on 29.03.2014.
Tanja  remember the last prices that were as follows:
Seat Prices:
Adult (18 and over) 6 euros
Child (3-17 years) 4 €
Students 4 €
Seniors (60 and over) 4 Euro
Family ticket 16 Euro
Doors open 30 minutes prior to film showing
Many thanks to Tanya Lambert, The last manager of "The Flix Cinema", Hameln
+++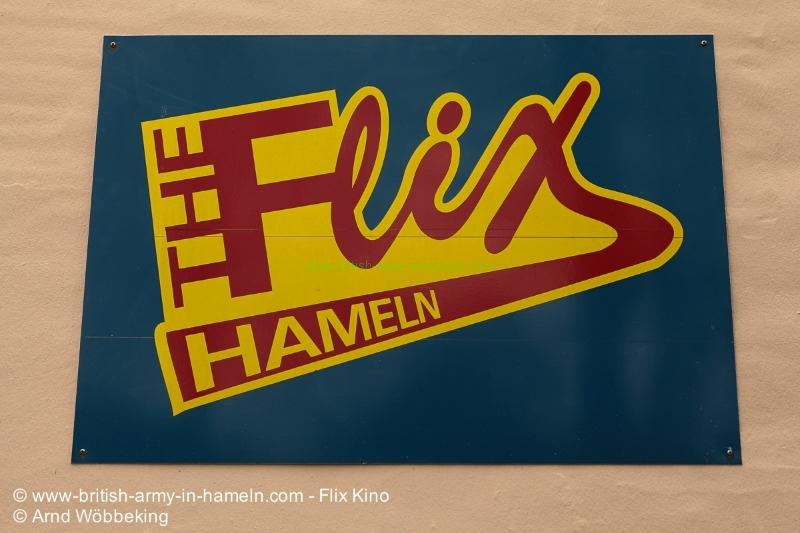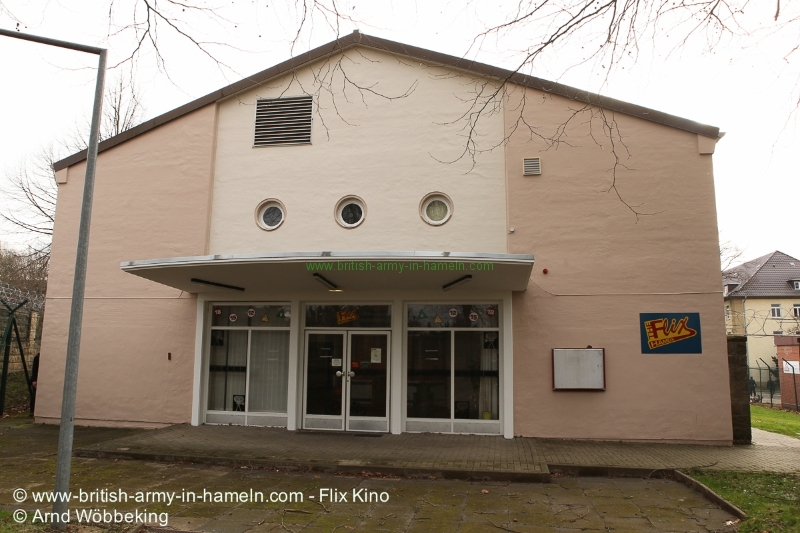 +++
 Die Eingangshalle / The Entrance hall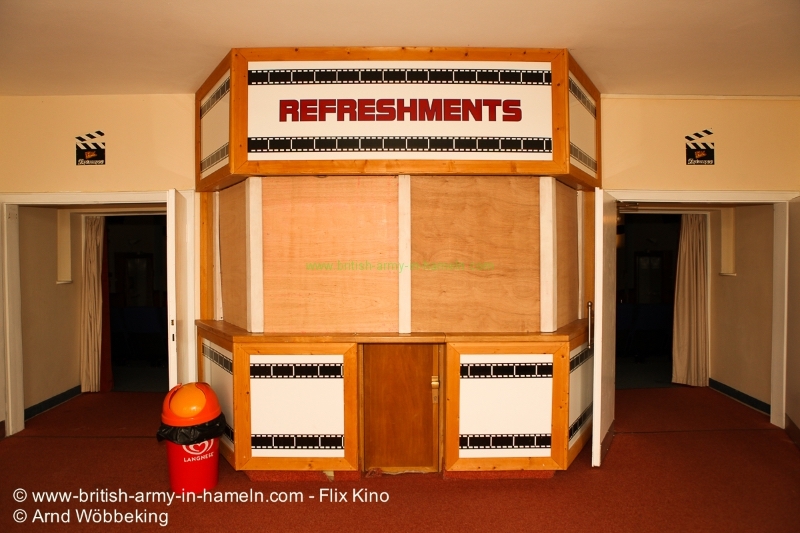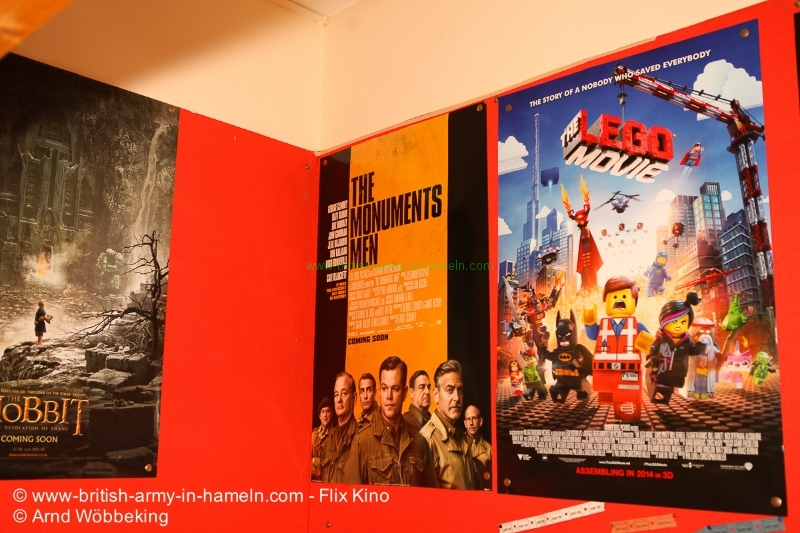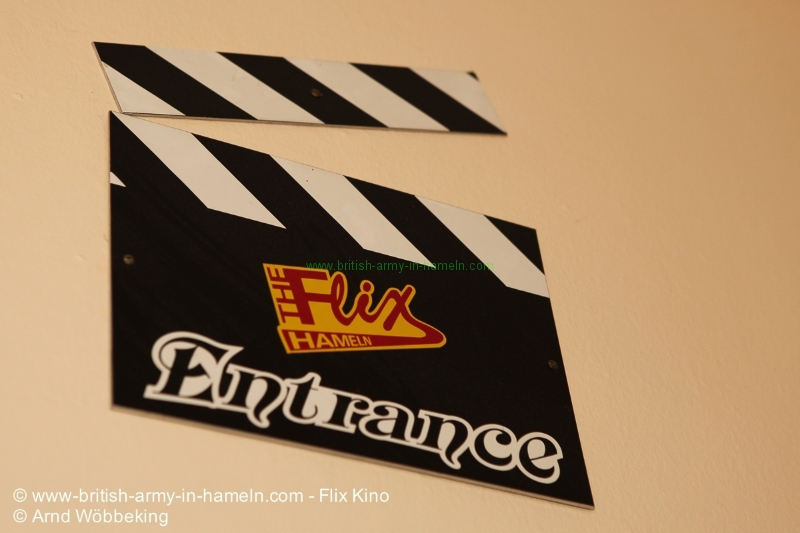 +++
Der Besuchersitze / The Visitor seats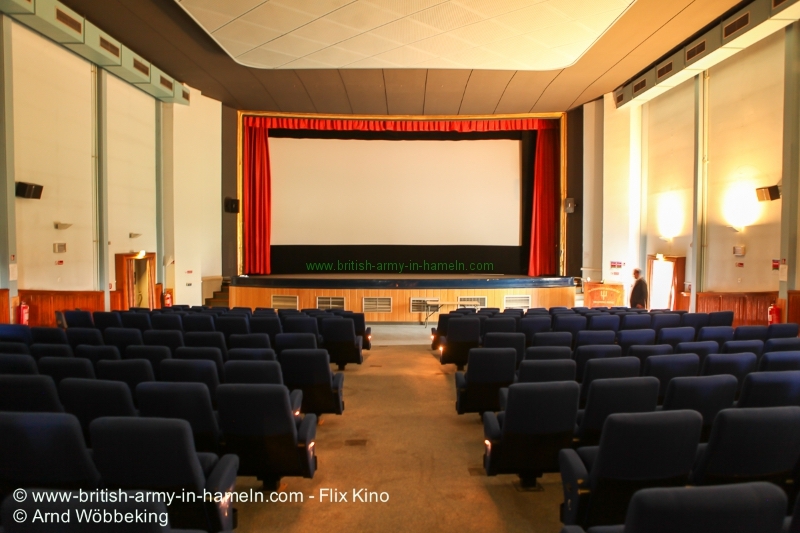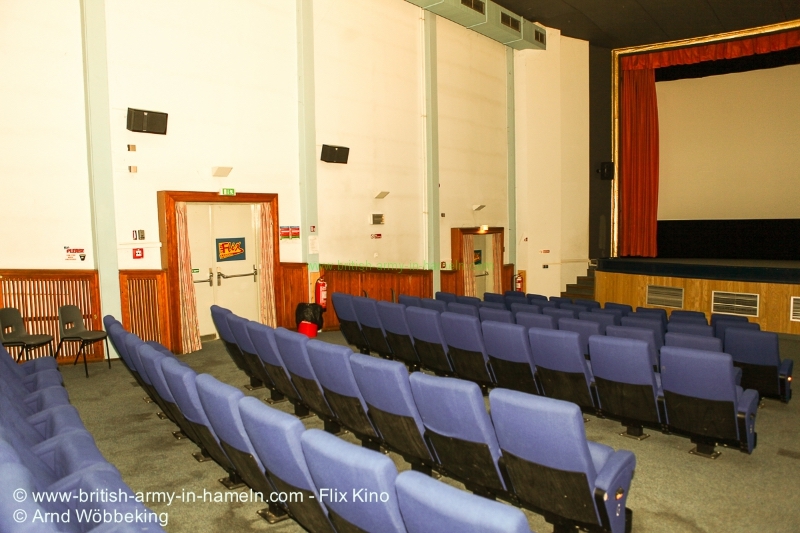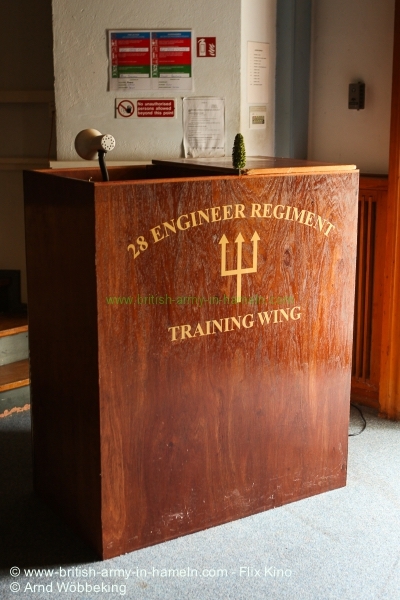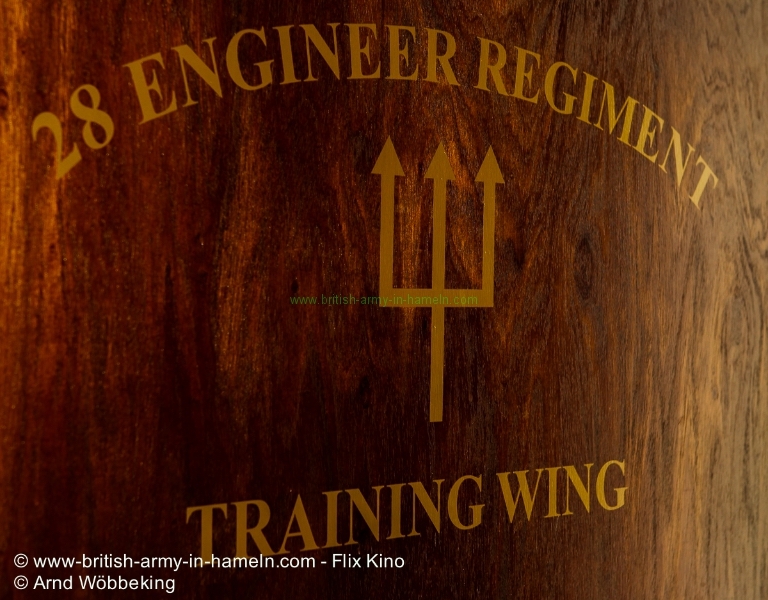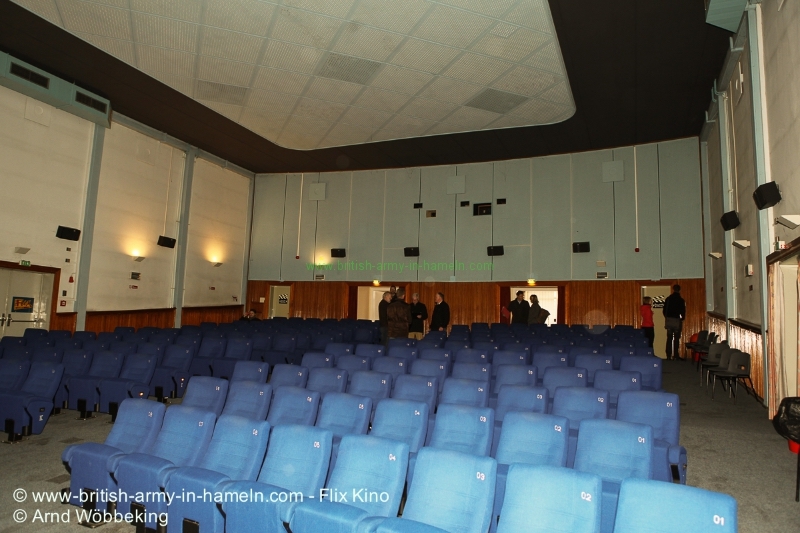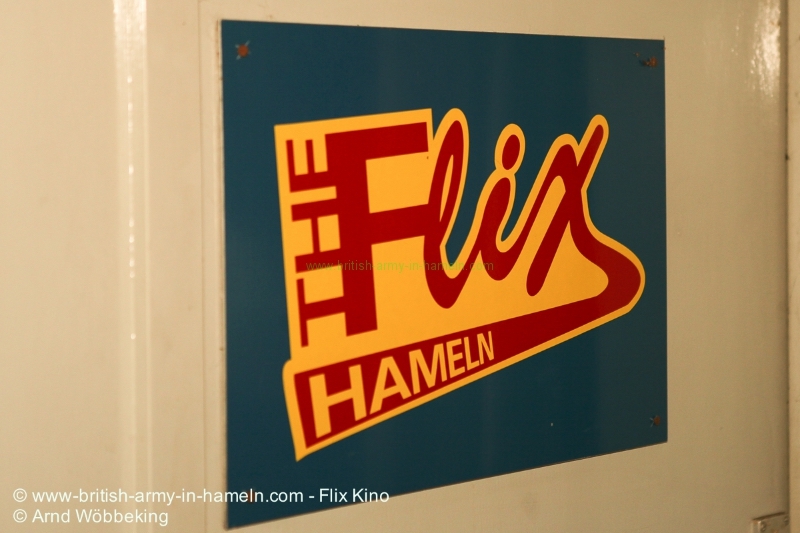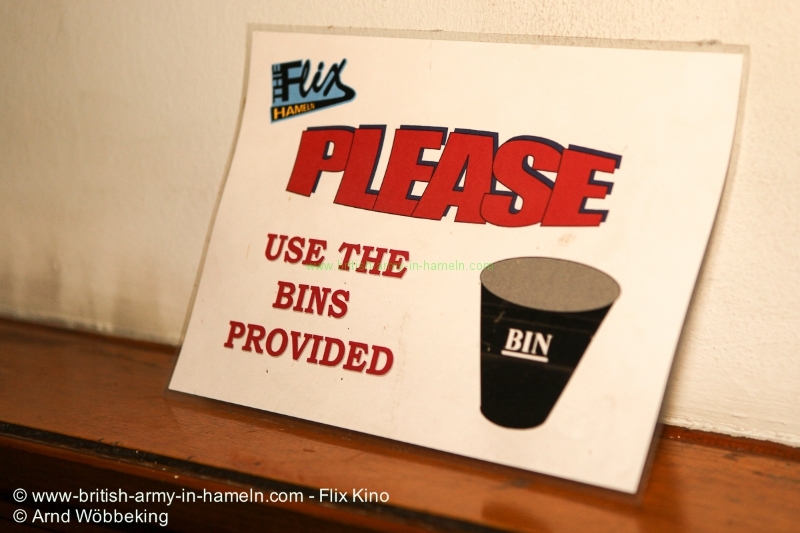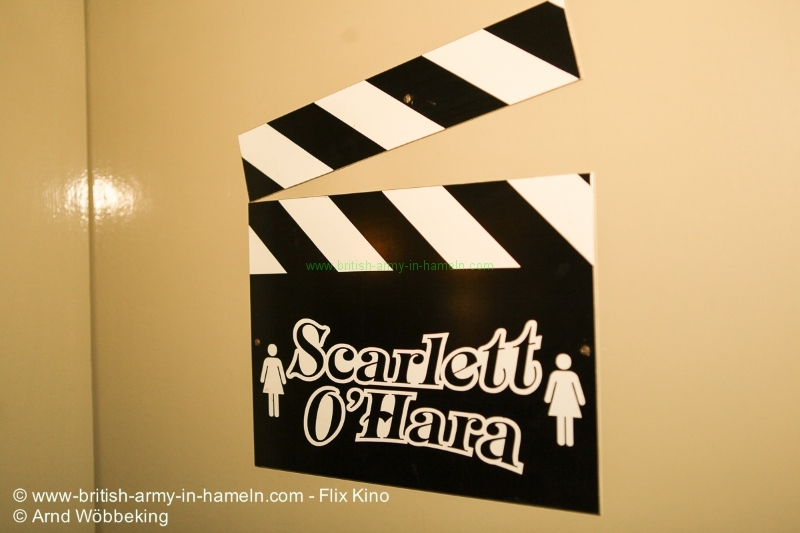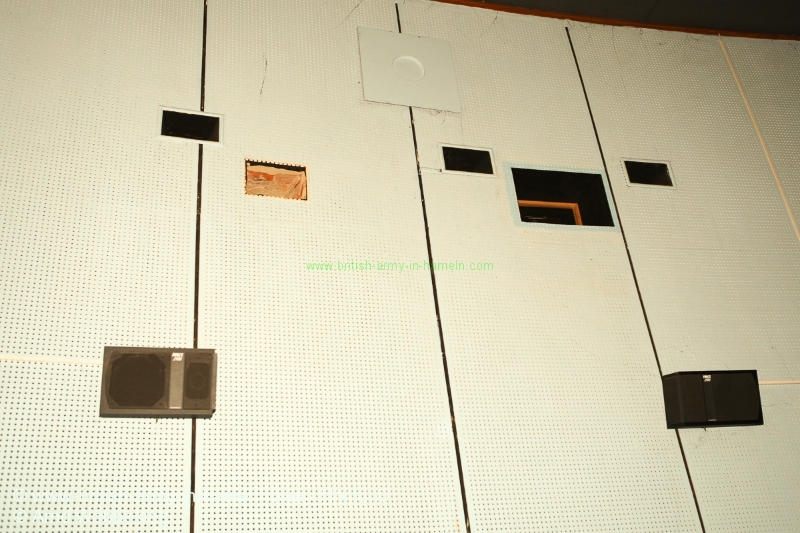 +++
Der Projektorraum / The projector room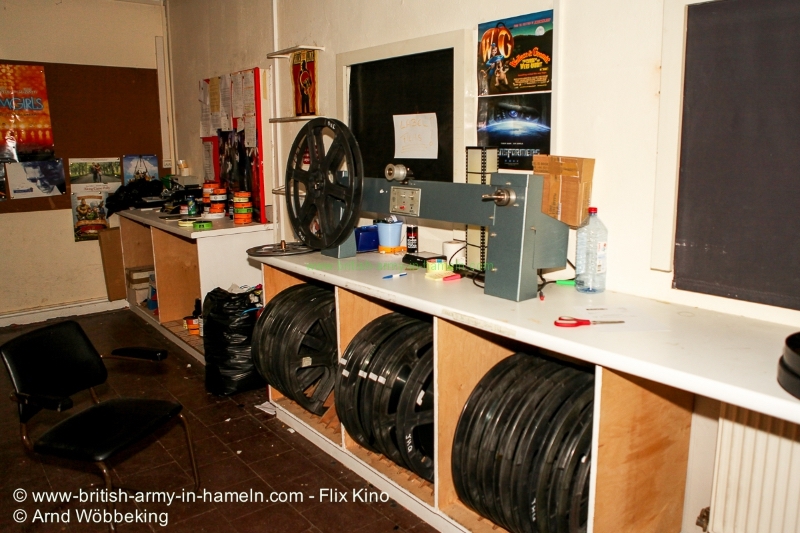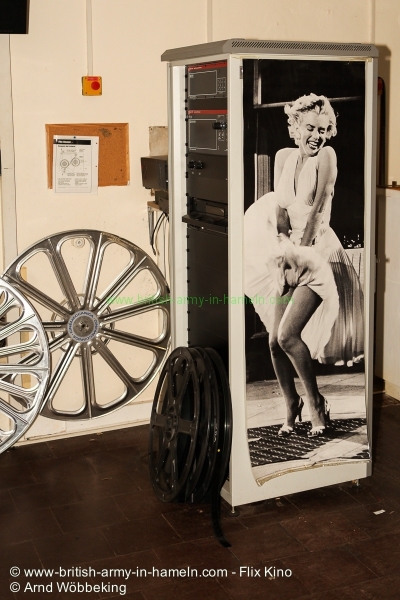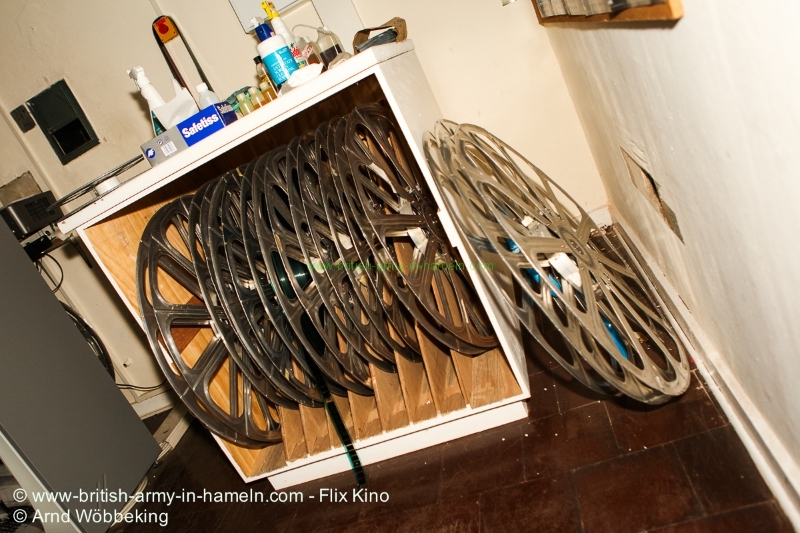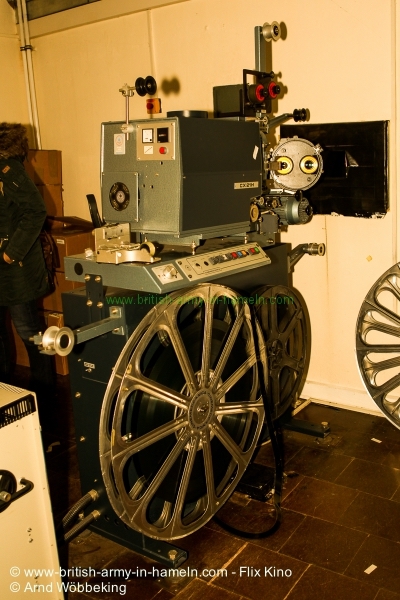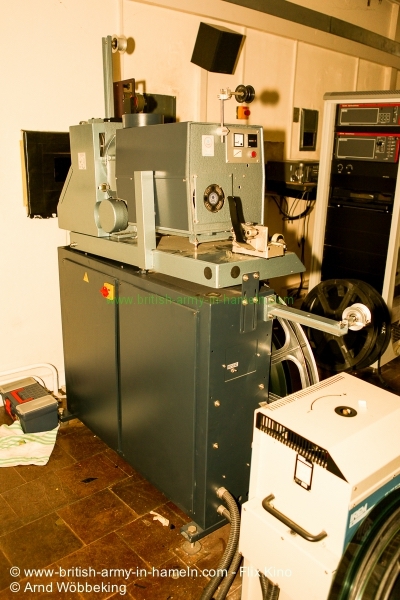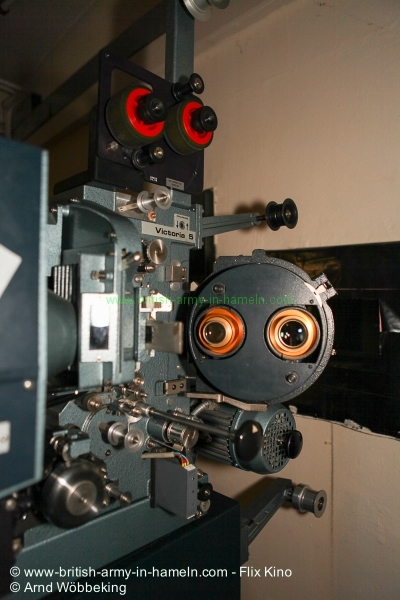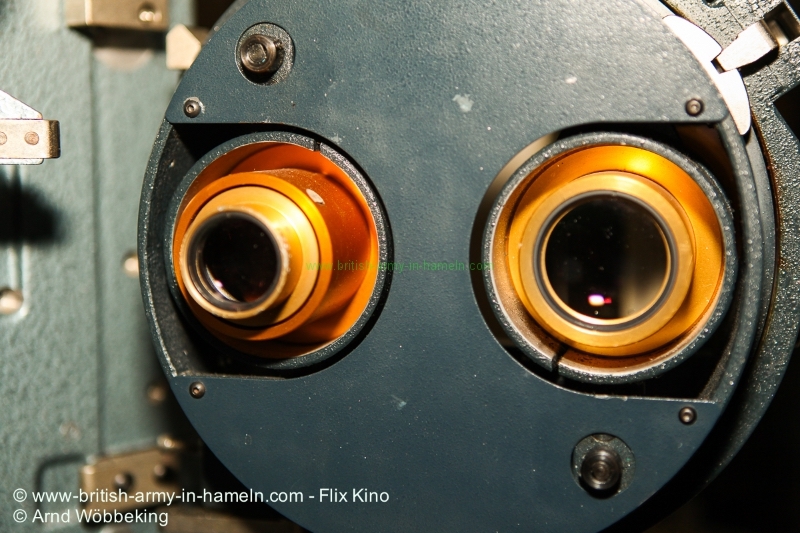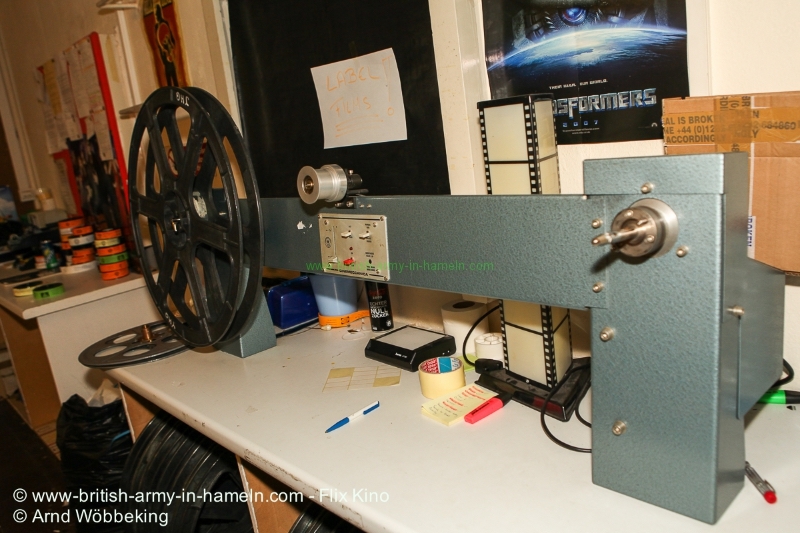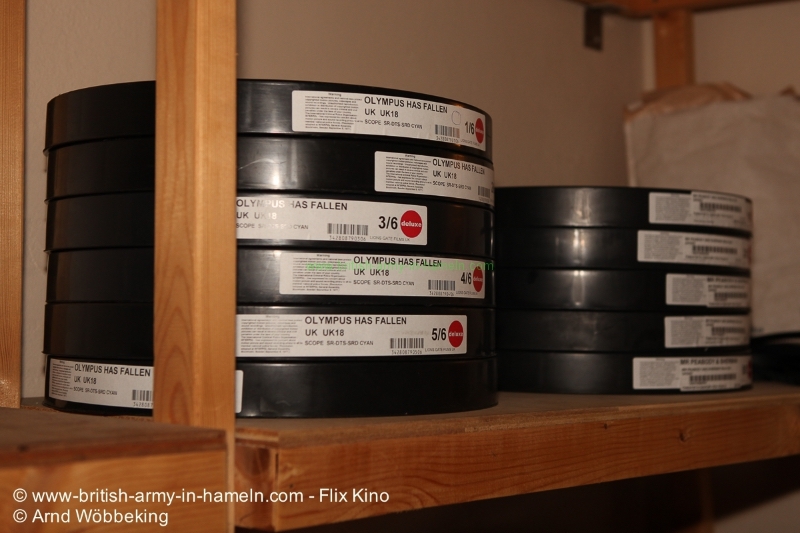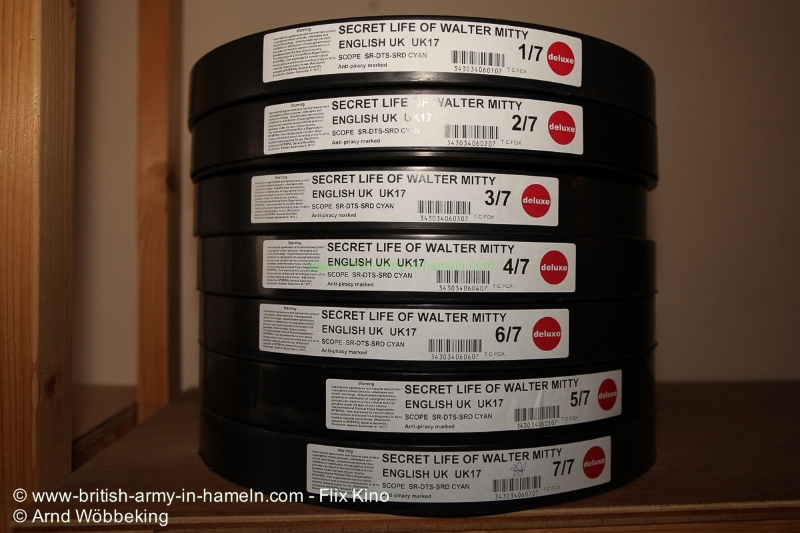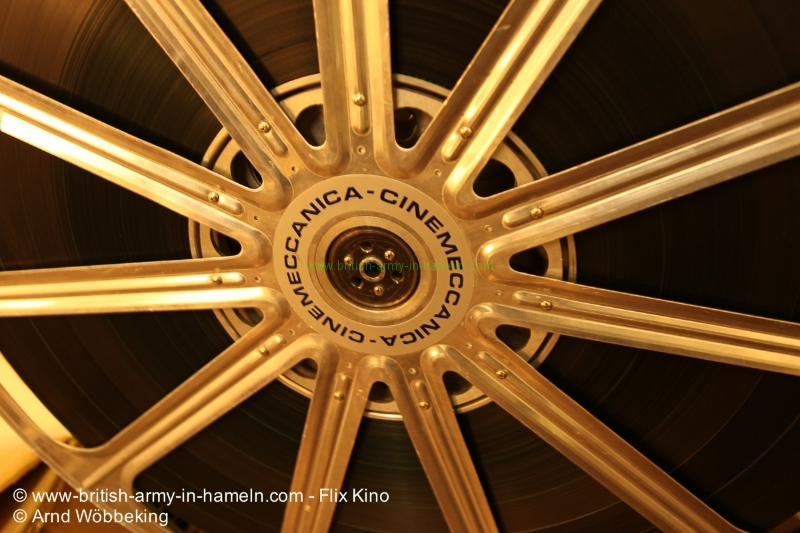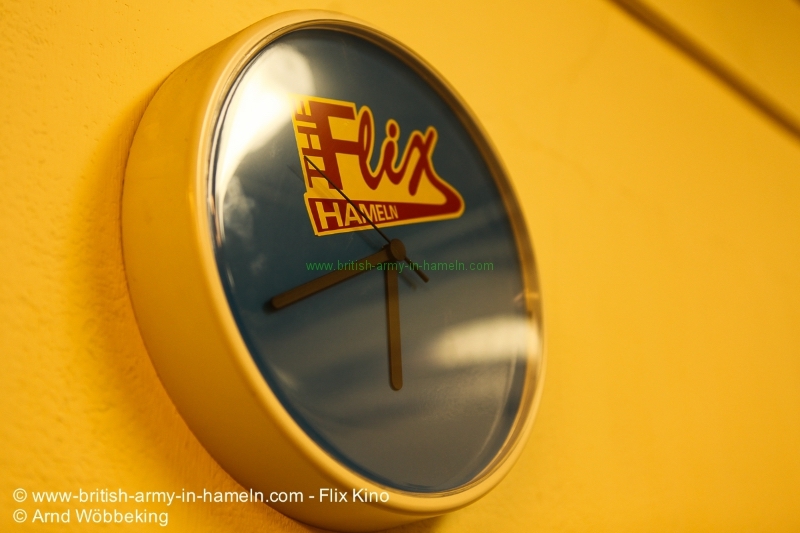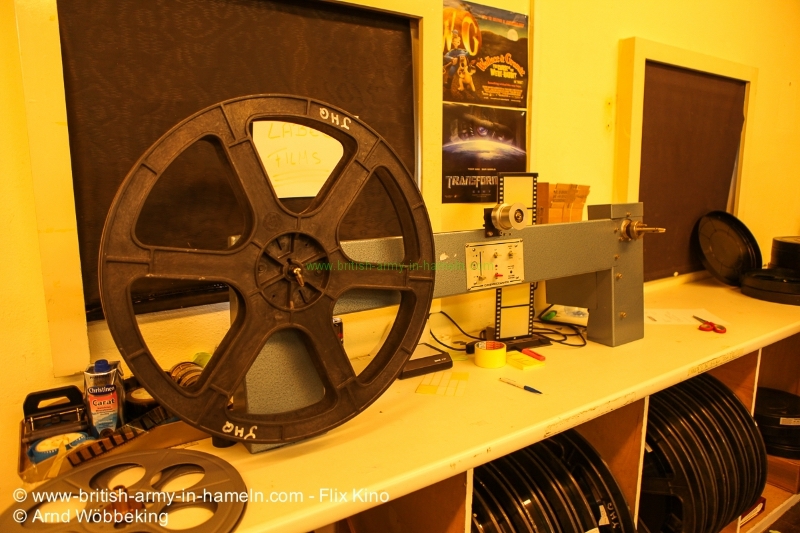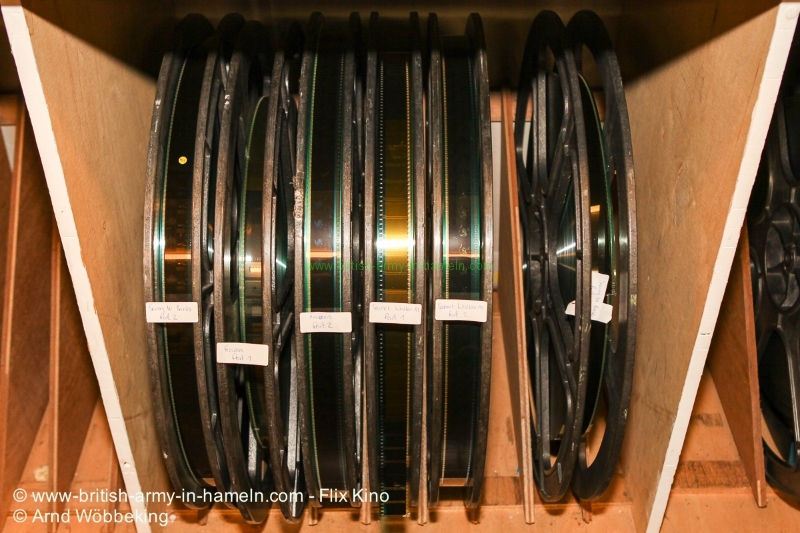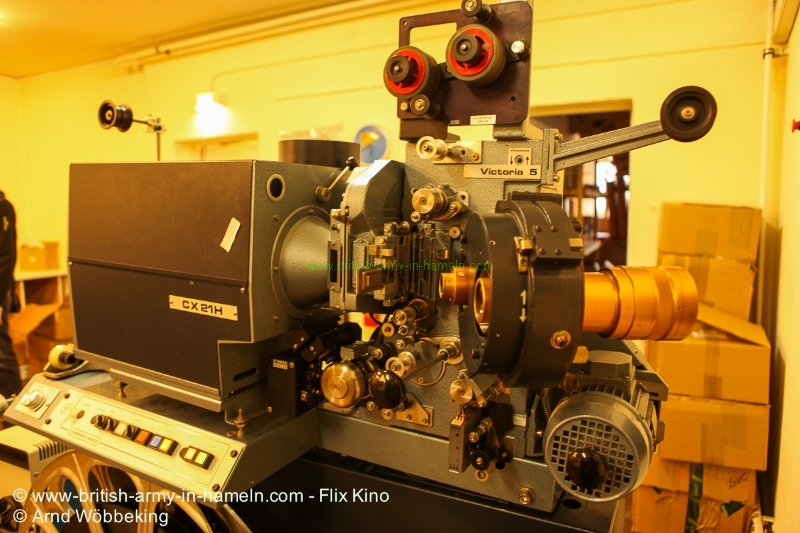 +++