© Derek Hallam & Arnd Wöbbeking
Für mich ist es immer sehr interessant das Netz zu durchsuchen um Informationen zu erhalten, über britische Einheiten, die in Hameln stationiert gewesen sind. Vor ein paar Wochen bin ich durch so eine suche auf die Webseite von Derek Hallam gestossen. Derek ist inzwischen 80 Jahre jung und lebt ein Canada. Unglaublich, auf seiner Webseite habe ich gesehen, das er in Hameln stationiert gewesen ist und zwar mit der 60 Field Squadron RE. Über diese Squadron habe ich so gut wie keine Informationen, geschweige Photos aus der Zeit als sie in Hameln stationiert gewesen sind. Darum freu ich mich umso mehr, das ich Derek kennenlernen durfte. Wir schrieben ein paar Mails und er erlaubte mir seine Geschichte mit der 60 Field Squadron auch auf meine Webseite zu schreiben! Und er hat sogar noch Photos aus der Zeit!
Vielen, vielen Dank dafür! Ich bin sehr stolz darauf Derek!
+++
For me it is always very interesting to search the network for information about British units been stationed in Hameln. A few weeks ago I found the website of Derek Hallam. Derek is now 80 years young and lives a Canada. Incredibly, on his website I saw that he was stationed in Hameln and indeed with the 60 Field Squadron RE. About this Squadron I have virtually no information. So I tried to get in touch with Derek and he answered!  We wrote a few emails and he allowed me to add his story with the 60 Field Squadron on my website! And he has also some photo from the time!
Many, many thanks! I am very proud Derek!
+++
Hier ist seine Geschichte: / Here is his story:
60 Field Squadron of the Royal Engineers 1954 – 1957
Ich diente 3 Jahre bei der 60th Field Squadron RE. Die Squadron war dem 26 field Engineer Regiment unterstellt zu dieser Zeit! Wir waren in der hübschen Stadt Hameln stationiert. Ja, die Stadt die durch die unglaubliche Rattenfänger Sage berühmt und bekannt ist! Wir waren in den Gordon Barracks, bekannt auch unter dem deutschen Namen "Linsingen-Kaserne",  stationiert.
Eigentlich war ich abgeneigt in der Armee zu dienen, und es stellte sich auch heraus, ds ich nicht unbedingt dafür geschaffener Soldat zu sein. Aber ich bin der Armee dankbar, denn sie haben einen Mann aus mir gemacht und ich lernte mich in einem Team zu recht zu finden und zu arbeiten. Unsere Hauptaufgaben waren das Arbeiten mit Sprengstoff und wir waren auf vielen vielen Manövern um Brücken zu bauen. Ganz speziell die Bailey Brücken. Auch das Minen legen und Minen räumen gehörte zu unseren regelmäßigen Aufgaben!
Ich lernte auch eine Menge von Fahrzeugen zu fahren, Panzerwagen, Halbkettenfahrzeuge und natürlich LKWs mit verschiedenster Tonnage. Ich war sogar für eine kurze Zeit Fahrlehrer. Heute ist es kaum zu glauben, aber wir kannten damals noch keine Servolenkung, synchronisierte Getriebe oder Druckluftbremsen. 22 mph (35 km/h) war die Höchstgeschwindigkeit einiger LKW. Ein paar Fotos habe ich aus der Zeit noch retten können.
+++
60 Field Squadron of the Royal Engineers 1954 – 1957
I served 3 years with the 26 Field Engineer Regiment, 60 Field Squadron, Royal Engineers, mostly in Germany in the pretty town of Hamelin. Yes, the one of the pied piper fame. We were stationed in Gordon Barracks, known as Linsingen Kaserne when it was occupied by German troops.
Being a bit averse to taking orders I was not the ideal candidate for military service. Having said that I am proud that I joined because it made a man of me and taught me to work with others and got me fit. It also broadened my outlook on life. We spent a lot of time with explosives and while we never demolished anything we were often on manoeuvres where we wired dummy plastic explosives for practise. Bailey bridge building, laying minefields and clearing enemy mines were also our regular tasks.
I drove a number of different vehicles including armoured cars, half tracks and 10 ton 4 axle trucks and was a driving instructor for a while. Hard to believe today but the 10 ton truck was only capable of 22 miles per hour (35km/ph) and you had better be in top gear before reaching 10 miles per hour (16km/ph). No synchronised gears, power steering or air brakes in those days either.
+++
Ein Foto aus der Innenstadt / a photo of the town of hamelin
+++
Das war einer unserer LKWS / One of our trucks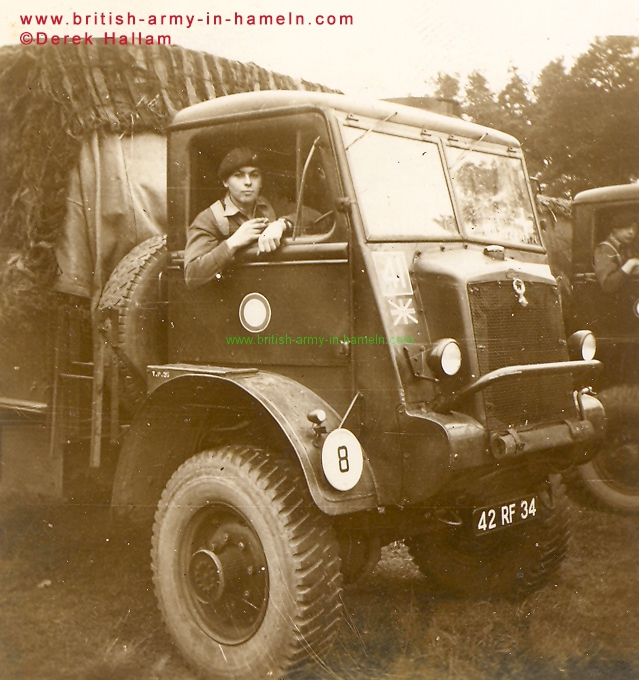 +++
My roommates (I'm the third from left) / Meine Stubenkameraden (Derek ist der dritte von links)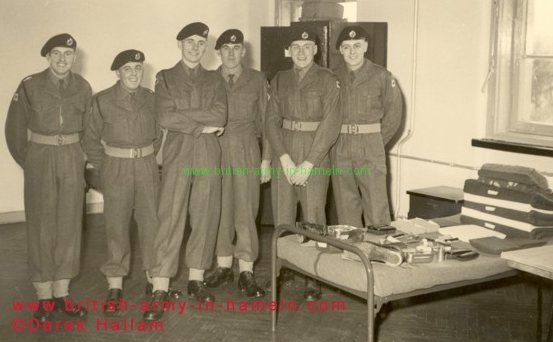 +++
Diese Brücke bauten wir am Boxing-Day (ein Tag nach Weihnachten 26.12.)  in Paderborn. Die Originalbrücke wurde durch einen Schneesturm zerstört.
These photos showing a bridge we built on Boxing Day in Paderborn as a nasty storm had taken out the original bridge.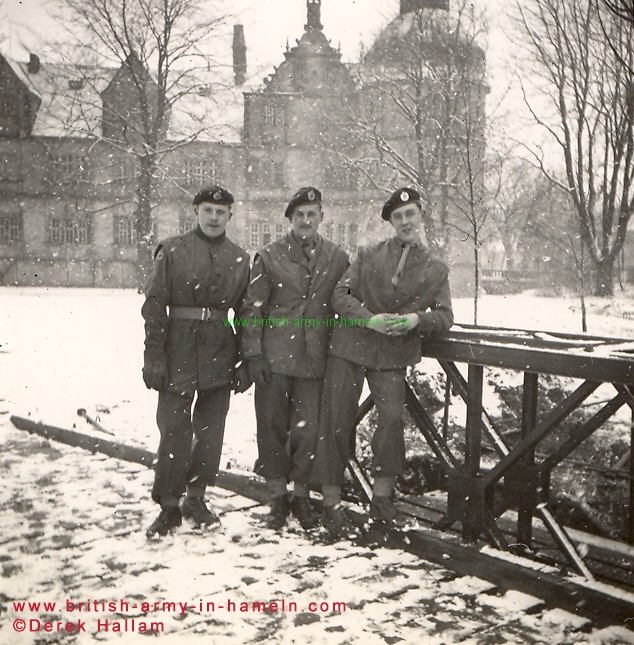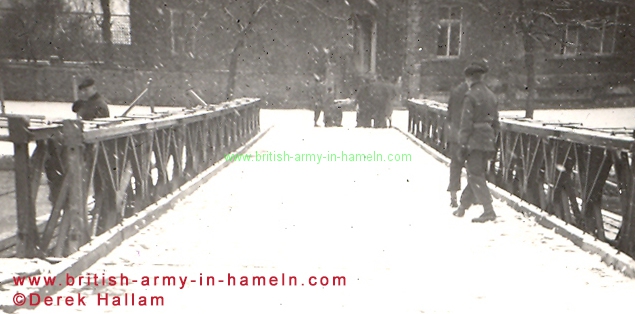 +++
Die folgenden zwei Photos stammen von einem Manöver, wahrscheinlich auf den Übungsplatz Soltau-Fallingbostel-Bergen.
/
The following photos showing a bridge we built during an exercise at the training area Soltau-Fallingbostel-Bergen.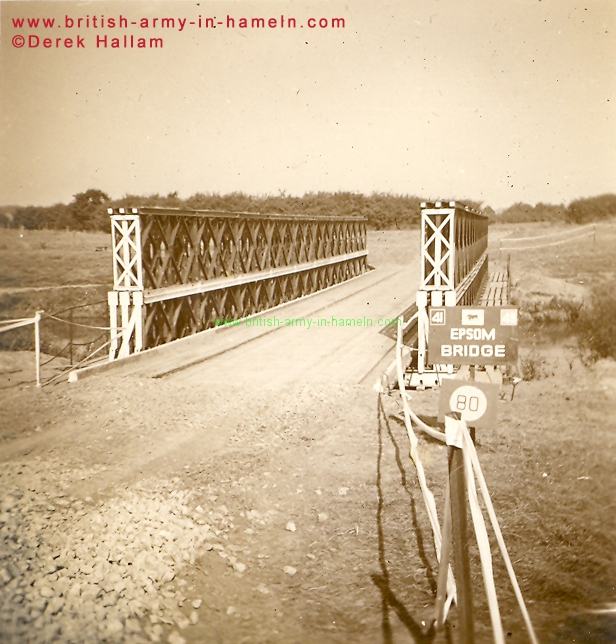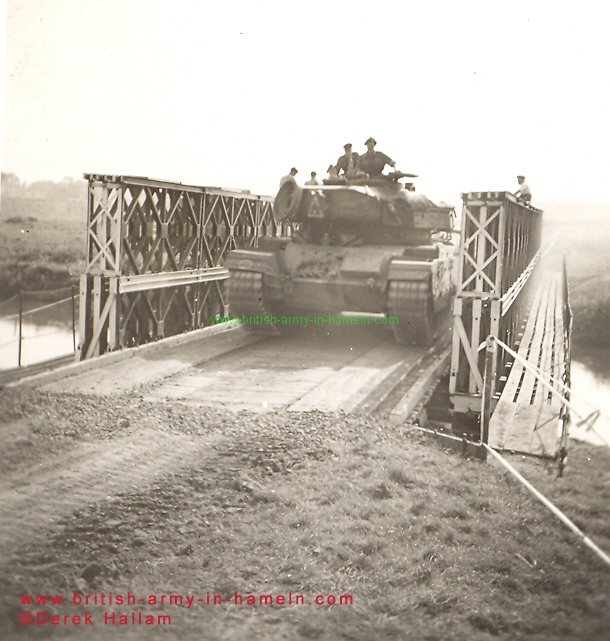 +++
Und als letztes Photo hat Derek mir ein Photo gesendet, das von seinem Troop in Hameln aufgenommen wurde!
At least Derek sent a photo, from his Troop as he was based in Hameln with the 60 Fld Sqn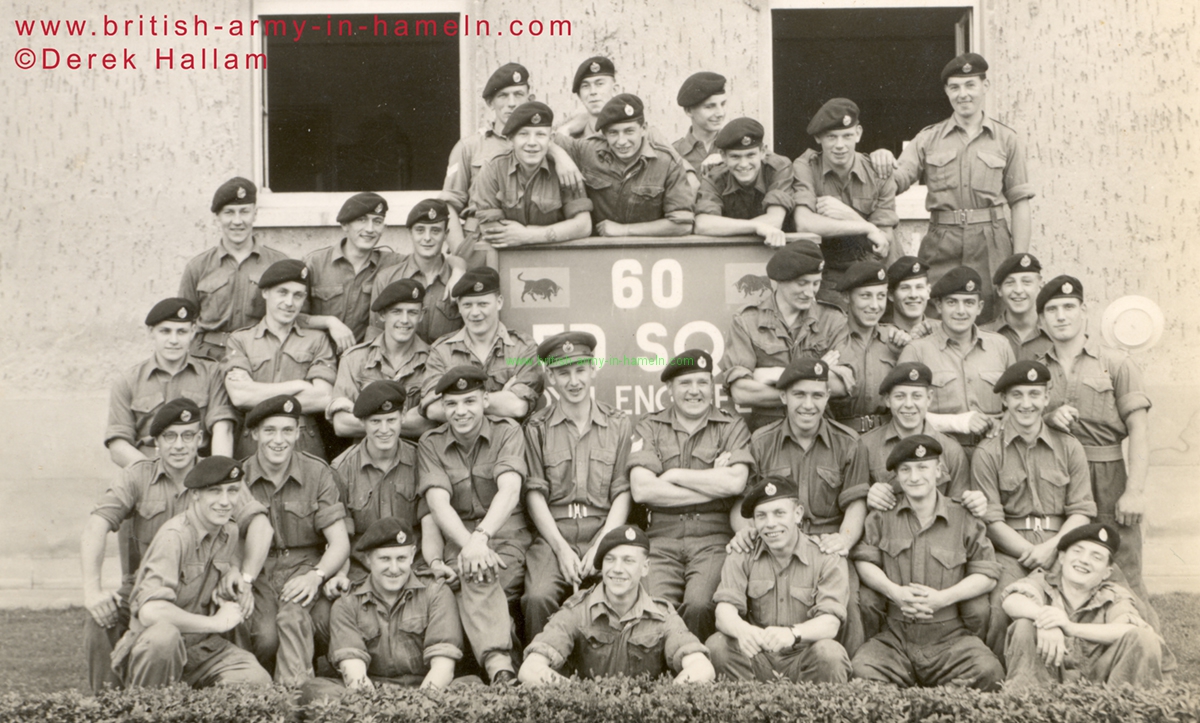 +++