—————————————————————————————————————————————————————————————————
44 FIELD PARK SQUADRON
—————————————————————————————————————————————————————————————————
44 FIELD SUPPORT SQUADRON
—————————————————————————————————————————————————————————————————
44 HEADQUARTER SQUADRON
—————————————————————————————————————————————————————————————————
44 FIELD SUPPORT & HQ SQUADRON
—————————————————————————————————————————————————————————————————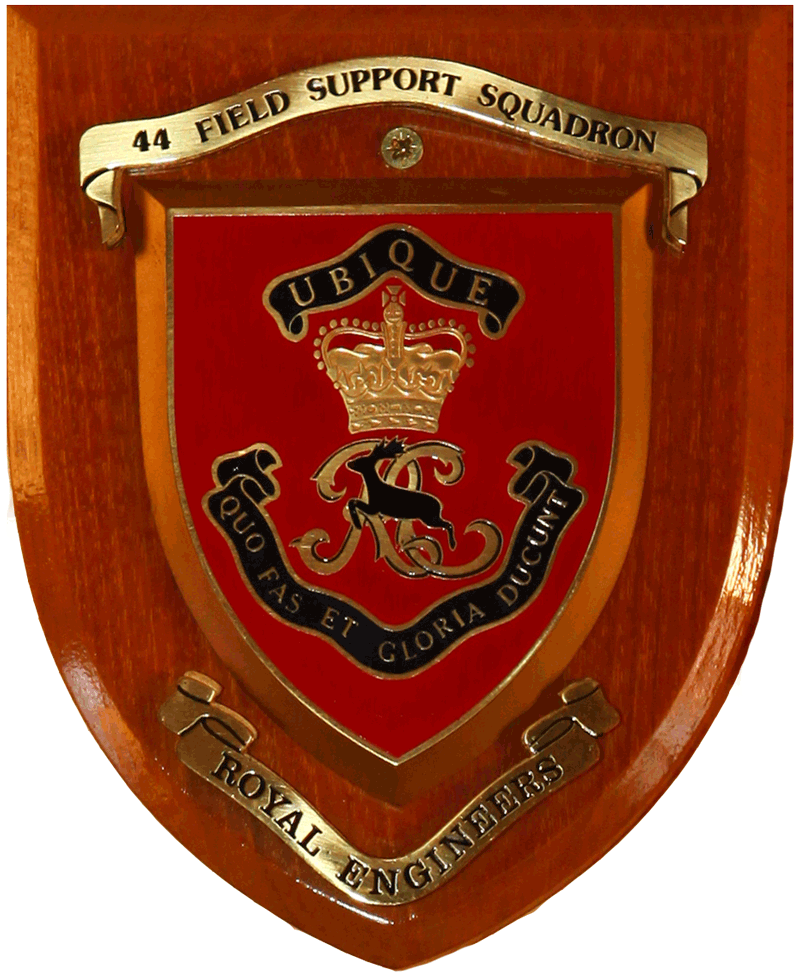 —————————————————————————————————————————————————————————————————
Did not have many informations about this squadron
 here in hameln,
but maybe someone know more about!
Feel free to contact me, please!
—————————————————————————————————————————————————————————————————
Dates
Location
deployment
under command:
Sub-units – Remarks
Mar 1950
England:
Devizes
27 Field Engineer Regiment
Reformed
Jan 1952
Germany:
Minden,
St George's Barracks
27 Field Engineer Regiment
Nov 1957
2 Div Engineers
27 Regiment disbanded.
Came under command
2 Div Engineers
Jan 1958
Germany
Paderborn,
Alanbrooke Barracks
4 Div Engineers
Jan 1968
Renamed
44 Field Support Squadron
44 Field Support Squadron
Apr 1969
26 Engineer Regiment
4 Div Engineers
renamed
26 Engineer Regiment
Nov 1970
Germany:
Gordon Bks,
Hameln
35 Engineer Regiment
29 Dec 1972
-
30 Mar 1973
Northern Ireland:
East Belfast
35 Engineer Regiment
Infantry Role
8 Jul 1974
-
8 Nov 1974
Northern Ireland:
Londonderry
26 Engineer Regiment
Infantry Role
1977
SQN was named
"44 Field Support Squadron"
and gained
a new troop – "RHQ troop – when the
Regiment's Headquarter Squadron
was disbanded.
(Information by Tom Harris)
Dez 1977
4 Armd Div Engr Regt.
Regiment became
4 Armd Div Engr Regt.
Jan 1980
-
April 1980
Northern Ireland:
Armagh
Jan 1981
35 Engineer Regiment
4 Armd Div Engr Regt renamed
35 Engineer Regiment
1984
u/c 4 Armd Div
29 Oct 1992
-
May 1993
Bosnia-Herzogovina:
Op GRAPPLE 1
35 Engineer Regiment
1992
35 Engineer Regiment
Sqn renamed
44 Headquarter Squadron
1992
35 Engineer Regiment
Sqn again renamed to
44 Field Support & HQ Squadron
Jun 1995
-
Nov 1995
Ploce, Bosnia:
Op GRAPPLE SURGE
35 Engineer Regiment
To build a camp for
24 Air Mobile Bde
Sqn splitted between several locations
Resources Troop Wksp was at Tomislavsgrad
along with much of Plant Troop, Fitter Section
and some of MT and Bridge Troop.

Plant Troop and Res Troop had small
detachments working along the route being
built over the mountains to
Gorni Vakuf and Vitez

Resources Troop resources cell was
mostly at Divulje Brks
in Split (Croatia)
(Information by M Cheyney)
1999
Germany:
Paderborn,
Barker Barracks
35 Engineer Regiment
Oct 2011
-
Apr 2012
Afghanistan:
Op HERRICK 15
—————————————————————————————————————————————————————————————————
Special thanks to
Alan Young from British Army Units
who collected all these dates!
Also to  M Cheyney and Tom Harris for further information!
———————————————————————————————————————————————————————————-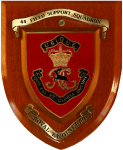 He was in Hameln twice '75-'80 in 44 Fd Sp Sqn! Thanks for support Taff! +++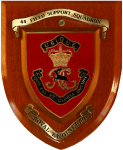 @ by the unknown photographer This Squadronphoto was taken in Gordon Barracks Hameln. Found in a bin!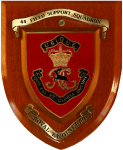 @ by the photographer This Squadronphoto was taken  in Gordon Barracks Hameln. Sent in by Gerald Knowles. Thanks for support!