© Arnd Wöbbeking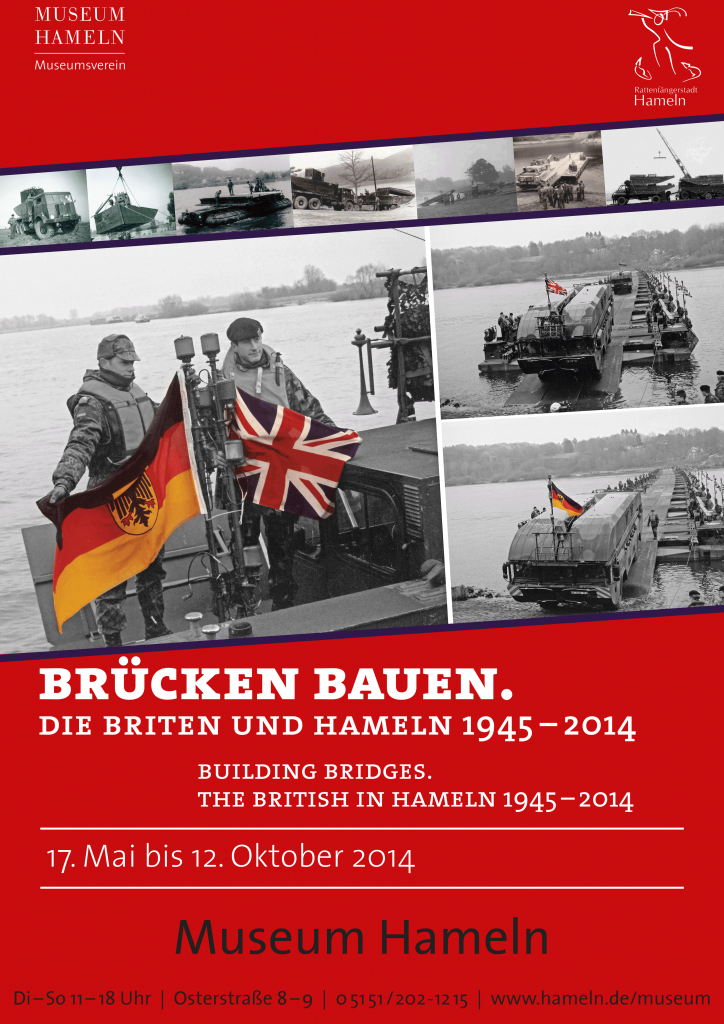 Die Zeit ist schnell vergangen …..
… so waren wir uns am Sonntag den 12.10.2014 einig, als die letzten Besucher die Sonderausstellung über die Britische Armee in Hameln verließen!
Die letzten beiden Führungen von Michael Hucks waren einigen geladenen Gästen vorbehalten,
die zum Teil an der Ausstellung mit gearbeitet, Ausstellungsstücke bereitgestellt oder ehemalige aktive Soldaten in Hameln waren!
Herr Daberkow (Museumsdirektor) und Herr Arnold (Museumsvereinsvorsitzender) bestätigten mir,
das laut Besucherzahlen die Ausstellung ein voller Erfolg gewesen ist!
Viele Interessierte hat es gegeben und natürlich auch viele ehemalige die für eine Zeit hier in Hameln verweilten,
weil ja am 13.06.2014 das letzte verbliebene Regiment hier in Hameln aufgelöst wurde!
Für mich war es eine Ehre, dem Museum geholfen zu haben diese Ausstellung auf die Beine zu stellen,
da ich doch immer ein sehr gutes Verhältnis zu Engländern, Schotten, Walisern und Iren hatte!
Ich möchte mich an dieser Stelle auch nun endlich öffentlich bei all denen bedanken,
die mir dabei geholfen haben. Viele haben Ihr Einverständnis gegeben, Ihre Bilder, Videos und Fotografien zu zeigen!
Oder einfach mit Ihren Informationen wertvolle Hinweise gegeben haben.
Bitte verzeiht, wenn ich hier jetzt keine Namen nenne, denn ich befürchte das ich jemanden vergessen könnte!
Die Ausstellung umfasste fast die gesamte Stationierungszeit!
Wo fangen wir an, wo hören wir auf, das waren die Fragen,
die sich die Mitarbeiter des Museum stellen mussten,
denn 69 Jahre in einem Raum von 10 x 10 m aufzuarbeiten, da gehört schon einiges zu.
Ich denke sie haben es gut gemacht. Dabei möchte ich auch die nette Zusammenarbeit mit
Frau Dr. Bollmann, Christopher Müller und Cornelia Maser von der Museumsberatung Bollmann erwähnen! 
Anhand der Fotowände und Ausstellungsstücke konnten Michael Hucks und weitere Museumsführer
die Geschichte der Britischen Garnison in Hameln gut erklären!
Diese Ausstellung war in Sectionen gegliedert, u.a befasste sich auch eine Section mit dem Besuch der Queen im Jahr 1993.
Dazu wurde der Stuhl auf dem Sie gesessen hat um sich in das Goldene Buch der Stadt Hameln einzutragen,
in der Ausstellung gezeigt, das Goldene Buch mit Ihrer Unterschrift natürlich auch!
Vielleicht ein wenig anders strukturiert, denn
(die Museumsleitung möge mir verzeihen, aber wir haben das auch schon persönlich besprochen)
hätte ich die Ausstellung, denn leider geht es aus keinem Bereich hervor,
das zu den Anfangszeiten der  Britischen Armee in Hameln auch Infanterieregimenter in Hameln stetioniert waren!
Auch das Hameln aufgrund seiner besonderen Lage Stationierungsort für die Royal Engineers (speziell Amphibische Engineers) wurde,
die deswegen aus Osnabrück hier her verlegt worden sind, ist so nicht unbedingt ersichtlich gewesen!
Denn daraus entstanden die Einheiten die den meisten wohl am besten bekannt sind,
nämlich die Brückenpioniere mit Ihren M2B, M2D und M3 Fähren!
Aber nun genug geschrieben, machen Sie sich selbst ein Bilder der Ausstellung mit den hier angehängten Photos,
die natürlich mit Genehmigung des Museums der Stadt Hameln gezeigt werden:
—
The time has passed quickly …..
So … we were on Sunday 10/12/2014 agree, as the last visitors left the exhibition about the British Army in Hameln!
The last two tours of Michael Hucks were subject to some invited guests,
with the working part of the exhibition, exhibits provided or former active-duty soldiers in Hamelin were!
Mr. Daberkow (Museum Director) and Mr. Arnold (Museum Association Chairman) confirmed me
according to the number of visitors the exhibition has been a great success!
Many interested people have been there and of course the many former lingered for a time here in Hameln,
because on 06.13.2014 the last remaining regiment was disbanded here in Hameln!
For me it was an honor to have helped the Museum to put this issue,
I always had a very good relationship with the English, Scots, Welsh and Irish!
I would also like finally to thank you publicly for all those
who have helped me. Many have given their permission to show their images, videos and photographs!
Or simply have given valuable information.
Please forgive if I will not mention any names here, because I fear that I might forget someone!
The exhibition comprised almost the entire deployment time! 
I think the staff of the museum did it well. And I would also like the nice cooperation with 
Dr. Beate Bollmann, Christopher Müller and Cornelia Maser mention of the Museum Advisory Bollmann!
Based on the photo walls and exhibits were Michael Hucks and other museum guides
the history of the British garrison in Hameln explain well!
This exhibition was organized in autopsies, including also a section with the visit of the Queen looked at in 1993.
For this purpose, the chair was where you sat to sign up in the Golden Book of the city of Hameln,
shown in the exhibition, the golden book with your signature as well!
Maybe a little different structure, because
(the museum management may forgive me, but we have already discussed in person)
I had the issue, because, unfortunately, it is clear from any area,
to the early days of the British Army in Hameln in Hamelin were also infantry regiments stetioniert!
Even the Hameln barracks for the Royal Engineers (specifically Amphibious Engineers) was due to its special location,
which have been so ago moved from Osnabrück here has been so not necessarily apparent!
For this the units created are most probably best known,
namely the bridge pioneers with your M2B, M2D and M3 cars!
But now written enough, you make yourself a picture of the exhibition with the accompanying pictures here,
which are of course shown with the permission of the Museum of the City Hameln: