(c) Jerry Lyden / Arnd Wöbbeking
Jerry Lyden war in Hameln beim 26 Royal Corps of Transport!
Aus seiner Erinnerung heraus schrieb er mir eine Skizze,
welches Gebäude der Bindon Barracks (Scharnhorst Kaserne),
welche Verwendung hatte zu seiner Zeit hier in Hameln! 
++++
Jerry Lyden was in Hameln with the 26 RCT!
From his memory he sent me a sketch of the buildings of Bindon Barracks!
And a list what was in each building, during his time here in hameln!
++++
If there are any corrections or supplements, please feel free to comment!
++++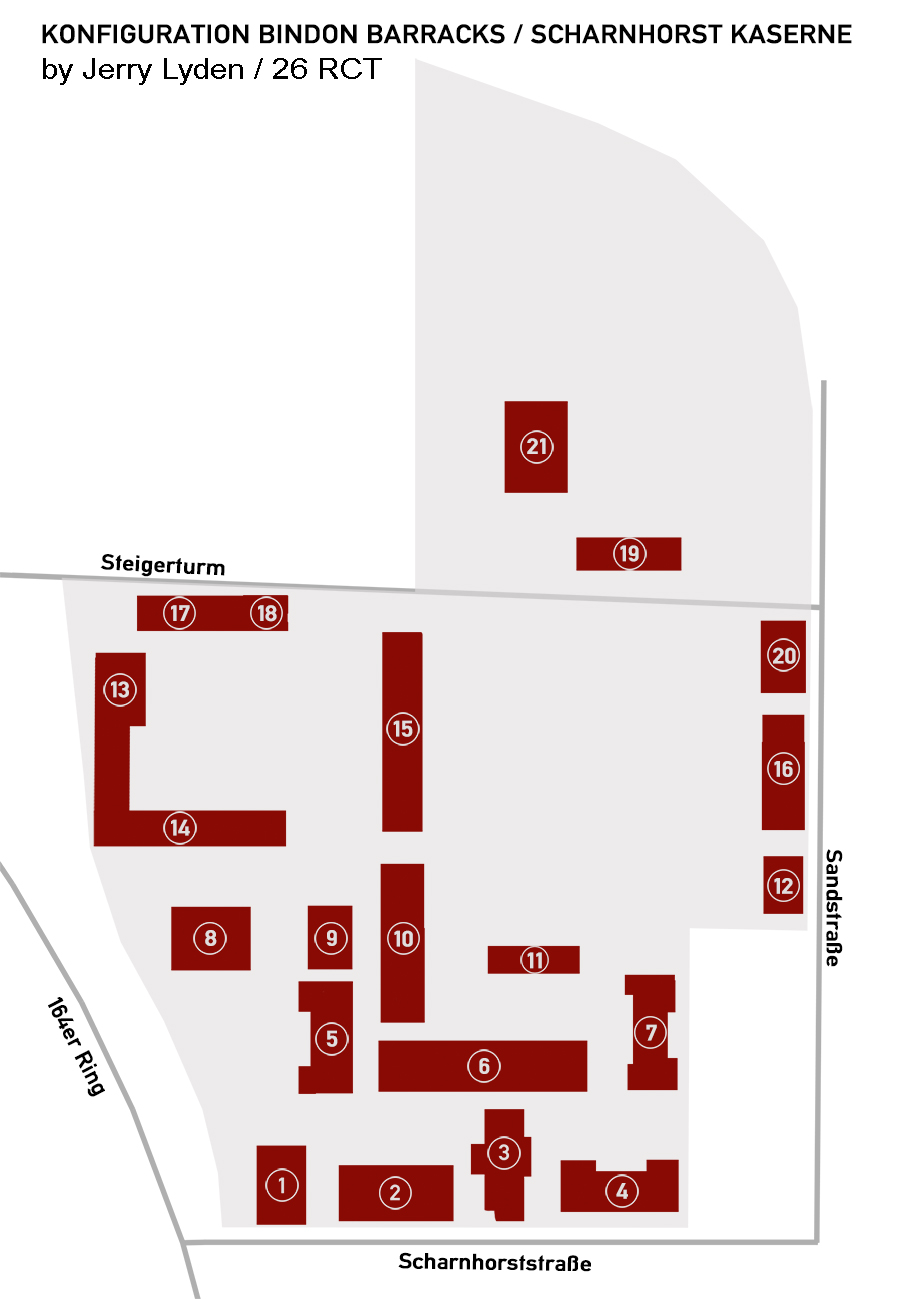 | | |
| --- | --- |
| Building 1: | GUARDROOM / RHQ |
| Building 2: | SGTS MESS |
| Building 3: | WRVS (not clear yet) |
| Building 4: | MSO (not clear yet) |
| Building 5: | HQ SQN |
| Building 6: | OFFICERS ANNEXE / 35 SQN |
| Building 7: | SCHOOL LATER HQ SQN |
| Building 8: | OFFICERS MESS |
| Building 9: | STORE BLOCK |
| Building 10: | NAAFI / COOK HOUSE |
| Building 11: | CIVILIAN WORKSHOPS |
| Building 12: | BUILDING: NOT MAT OF CAMO |
| Building 13: | 40 SQN WORKSHOPS |
| Building 14: | STORAGE |
| Building 15: | 40 SQN BLOCK |
| Building 16: | 35 SQN BLOCK |
| Building 17: | 40 SQN TP OFFICES |
| Building 18: | SERVICE BAY |
| Building 19: | POL |
| Building 20: | 35 SQN TP OFFICES |
| Building 21: | WASHDOWN |