© Arnd Wöbbeking & Dewezet
Am 16.07.1965 berichtete die örtliche Tageszeitung "DEWEZET"
über die Gründung des 26 Regiment Royal Corps of Transport".
Dieses Regiment ist aus der 26 Transport Column RASC entstanden!
Zeitzeugen berichteten mir, das es nicht viele Veränderungen gegeben hat!
Äußerlich waren es nur die Abzeichen an den Mützen! 
+++
On 16/07/1965 the local daily newspaper "DEWEZET" reported
on the establishment of the 26 Regiment Royal Corps of Transport ".
This regiment was created from the 26 Transport Column RASC!
Eyewitnesses told me that there has not been a lot of changes!
Externally there were only the badges on their caps!
+++

Der zweite in der ersten Reihe ist übrigens Richard Keyte, ein langjähriger Freund
von mir und meiner Webseite, er hat sich selbst darauf wiedererkannt!
+++
The second on the front row is  Richard Keyte, a longtime friend of mine and my website!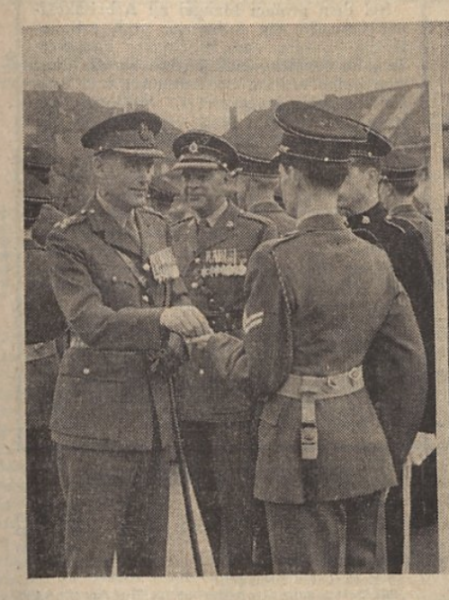 Ergänzend zu den Zeitungsartikeln hat mir Alan Shaw das Programm der Parade gesendet! Herzlichen Dank dafür! 
In addition to the newspaper articles Alan Shaw has sent me the program of the parade! Many thanks for that!