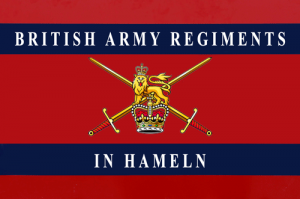 +++++
Seit 1945 waren in Hameln viele Einheiten der Britischen Armee stationiert!
Es war nicht wirklich einfach herauszufinden,
welche Einheit wann und unter welchem Kommando in Hameln gewesen ist!
Dank vieler ehemaliger Soldaten und speziell Alan Young,
habe ich so denke ich fast jede zeitliche Lücke geschlossen!
Es wird bestimmt noch Fehler in meiner Auflistung geben,
daher bitte ich jeden, der einen Fehler findet diesen mir zu benennen!
Darüber würde ich mich sehr freuen!
Klickt auf den Namen des Regiments oder Squadron
und eine neue Seite wird sich öffnen!
++++++
Since 1945, many units of the British Army stationed in Hameln!
It was not really easy to figure out, which unit has been when and under what command in Hameln!
Thanks to many former soldiers and also Alan Young,
I have, so I think almost closed every time gap!
It is determined not to give error in my listing,
Therefore I ask everyone who finds an error this naming me
Furthermore, I would be very happy!
Klick on the Name of the Regiment or Squadron
and a new site will open!
+++
20. Mai 1945 – August 1945
"A" Company – 5th Bn Queens Own Cameron Highlanders
Many thanks to Robert Sands and his father for this information!
( 2934077 Sgt. George Sands MM of the 5th Bn Queens Own Cameron Highlanders)
+++
26 FIELD ENGINEER REGIMENT 1950 - 1958
+++
THE MIDDLESEX REGIMENT (DUKE OF CAMBRIDGE'S OWN) 1958 - 1962
+++
THE ROYAL WARWICKSHIRE REGIMENT / THE ROYAL WARWICKSHIRE FUSILIERS 1962 - 1964
+++
26 ROYAL CORPS OF TRANSPORT / 1963 - 1970
+++
28 AMPHIBIOUS ENGINEER REGIMENT / 1970 - 1992
+++
28 ENGINEER REGIMENT / 1992 - 2014
+++
35 ENGINEER REGIMENT 1964-1999